Unboxing and first look at Apple Watch Series 7
By: Hill Choi Lee
October 13, 2021
Apple calls their Apple Watch Series 7 "the most advanced, most capable Apple Watch yet". #legend spends a few days with the smart watch before it hits stores and here's what we think
Though at first sight there doesn't seem to be a huge noticeable difference from the Series 6, the new Apple Watch Series 7 is packing a punch on several fronts. We take the new smart watch for a spin ahead of its release and here's what we think about the exciting developments that come with Apple's newest release.
Bigger and brighter
Apple Watch Series 7 powered with the watchOS 8 now comes with a bigger screen – and though it may not be obvious at first sight, the inclusion of a refractive edge gives the subtle impression of the user interface (UI) wrapping around its thinner corners for a more comfortable viewing. It's a move forward in giving the Apple Watch a slightly sleeker look with its softer, more rounded corners and thinner borders. In comparison, that is almost 20 percent more screen area than the Series 6, and over 50 percent more than Series 3.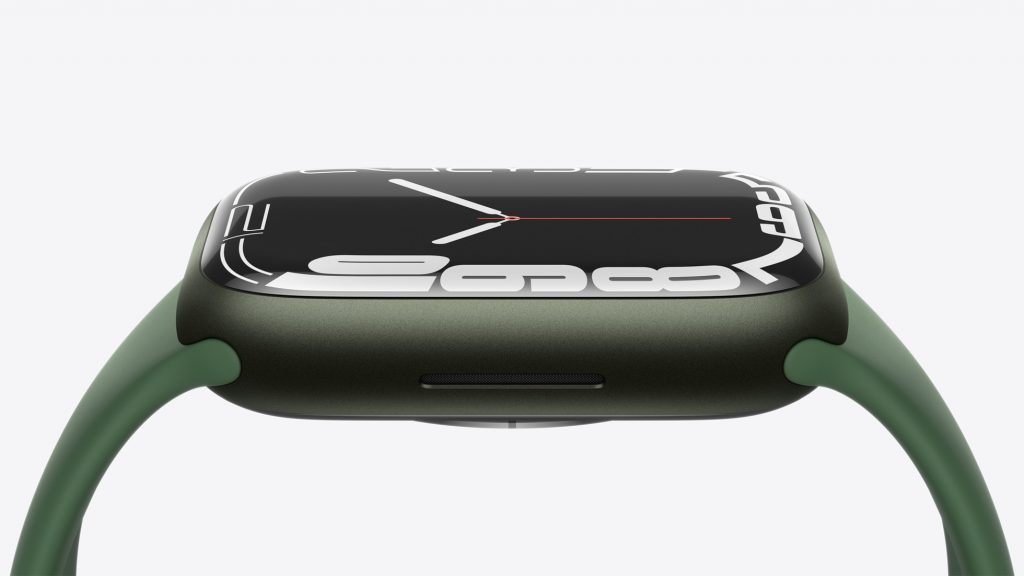 The Apple Watch looks more refined in this generation, which in many ways is helped by the seamless integration of that refractive edge into the curvature of the case and the front crystal bending light from the screen to its edges. As always, users can choose from exclusive watch faces, with new options added to the ranks that are specifically designed to accommodate the larger display.
Meet some new faces
Contour is a custom font inspired by classic mid-century where the numbers around the dial are tucked right up to the edge of the display. The numbers gradually change in size to highlight the current hour and they animate when you scroll the dial. The contour is exclusive to this Series.
The new Modular Duo face features two large, data-rich centre complications, while classic World Time is based on heritage travel watches. It lets you see time in all 24 World Time Zones at once, as represented by the cities on the outer dial. Though not new to the fore, Portrait is another face that stands out because of the bigger screen that allows iPhone portrait photos come to life.
Colours to match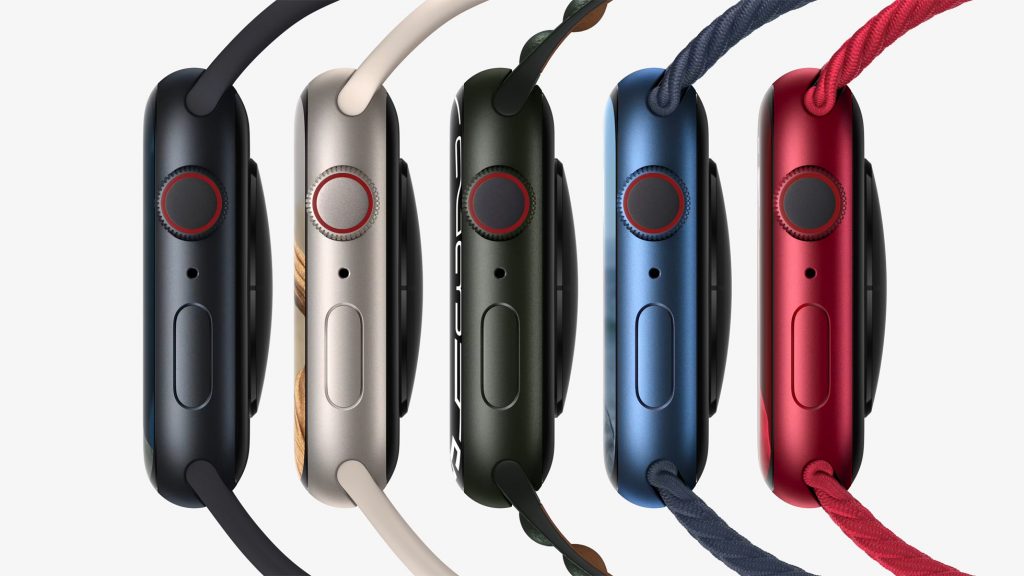 Excitingly, Apple Watch Series 7 is introducing five brand-new aluminum colours: Midnight, Starlight, Green, Blue, and an updated (Product)Red. Apple also adds that "a portion of every sale will fund Covid relief programmes through the end of 2021".
Midnight is black with a blue hue up close, and their new green (the first time they ever come out with this colour for any of the Apple products) is understated but chic at the same time. Reminiscent of a military or moss green, the colour is dark enough to blend in with Apple's brightly coloured straps and is very easy-going on the eyes (see video). Both the blue and Apple Watch (Product)Red have been updated and refreshed. The former is made brighter, while the latter is given a richer and warmer tone with the (Red) logo etched on the back crystal. While Starlight is a neutral soft metallic colour drifting between gold and silver in colour.
Strap yourself
Whether active or discerning, the Apple Watch team made sure the wearer goes in style. While Apple Watch Nike brings us new fresh band colours and a new face, the Apple Watch Hermès offers a new Double Tour band and a Circuit H Single Tour with matching watch face.
Apple isn't kidding when they say there is an Apple Watch for every personality. Straps available to the Series 7 include Sport Loop, Solo Loop, Sport Band and Braided Solo Loop. Straps available to the Stainless Steel and Edition range also include Milanese Loop and Leather Link.
Going all the miles
Apple came out saying the Series 7 Apple Watch is their most durable and most crack-resident front crystal ever implemented. Their new IP6X dust (the highest certifiable level of dust protection) and existing WR50 (up to 50 meters) water resistances make this product a must-have companion for athletes and amateur sportsmen and women. We can envision this to be a dedicated assistant while trail running in humid Hong Kong conditions through hilly terrains.
In addition, if you opt for the Apple Watch Series 7 with built-in cellular capability (available since the Apple Watch Series 3), you can once again bring the Apple Watch on your run without a phone, and it'll remain connected to receive calls, send texts or let you listen to music or Podcasts on the go. Perfect for occasions or those activities and places too cumbersome to carry around your phone.
Big steps with user interface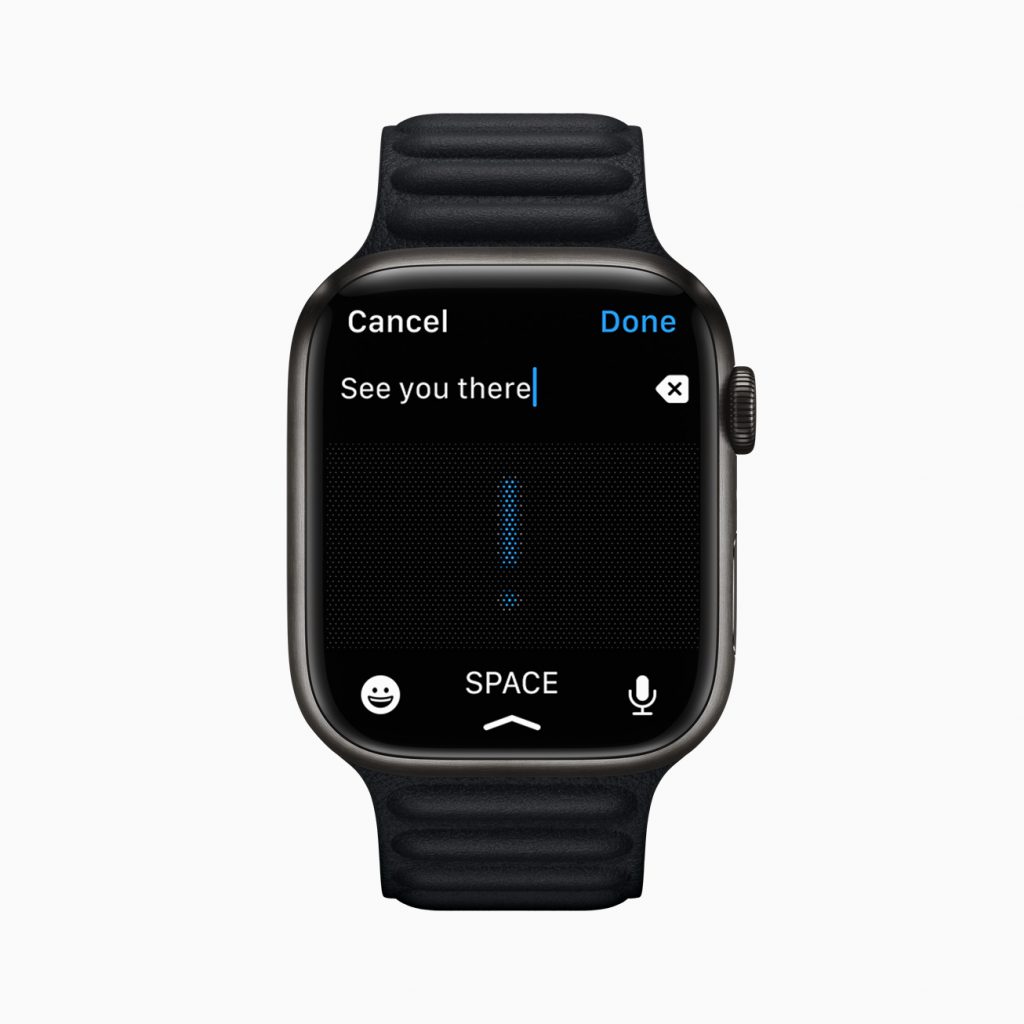 With a bigger display and new ways for text input, Apple has redesigned the user interface to make full use of the optimisation. Apple said that they "push[ed] the limits of technology to maximise the screen area and gain every possible pixel".
The device now facilitates more text on-screen, larger buttons, type size options and a full QWERTY keyboard. Machine-learning is also integrated so that with Quickpath, users can slide from letter to letter to form words alongside traditional typing and using Scribble (which as its name indicates – allow scribbling letter per letter to form a word).
Healthy functions
Many of the Apple Watch health and wellness sensors return to the Series 7, some with improvements. The ECG and blood oxygen are back again as popular features. While many of the safety and health features remain the same, the Series 7 will automatically call emergency services when it detects a hard fall – and can even complete the call when you are travelling abroad. The Noise app is devised to give alert to high decibel levels that can be damaging to your hearing.
Let's talk numbers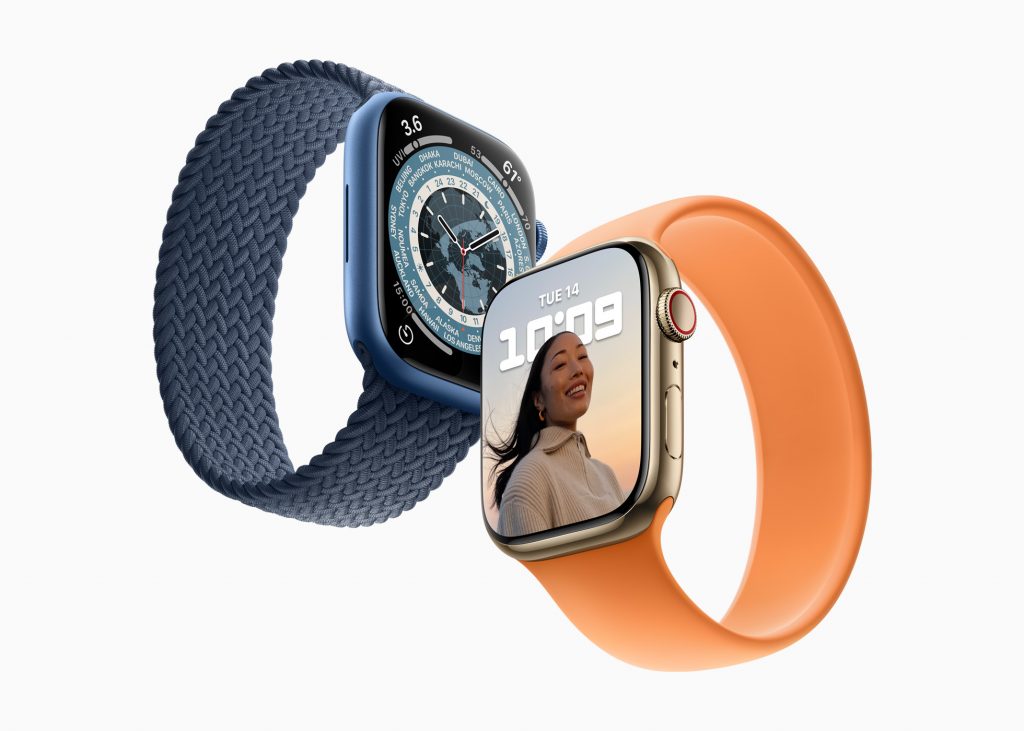 The Series 7 is said to come with a brighter screen when wrist down; about 70 percent brighter indoors for that easier sneak-a-look without raising the wrist or waking the display. The front crystal alone is more than twice as thick than the Apple Watch Series 6 for increased strength and durability.
A reimagined charging architecture means that the Apple Watch Series 7 – with a new Magnetic Fast Charge USB-C cable (that seems to magnetically clasp onto the device more securely and stronger on initial try) – charges up to 33 percent faster than Series 6.5. It takes 45 minutes to charge from zero to 80 percent, and 8 minutes of charging will give you enough juice for 8 hours of Sleep Tracking. In our experience, the all-day battery life lives up to its proclaimed longevity, and when you think the Series 7 was about to give out… it lasts a little bit longer. 
First impressions
From the point of view of a new Apple Watch user – of any smart watch user, to be exact – the device is a marvel. It's sleek and unobtrusive. It takes about less than a day to get used to its features and to have (almost) everything you could possible need from an iPhone (simplified) on your wrist is also reassuring for times when you can't get to your phone. To be able to adjust volume on the AirPods with the turn of the side wheel instead of fumbling for the phone is a welcome change.
Of course, the Apple Watch can't replace an iPhone (or any phone), but it sure makes live easier when you can't blatantly have your phone with you. I am more of a fan of the sport band than the sport loop as strap, but the Product (Red) sport loop did make the watch look sharp. The sport bands come in a range of colours. Of all the Apple Watches Series 7, we got a close look at the green – and the hue is on point. It would also seem that other coloured sport bands go well with dark green aluminum, whether it's English Lavender, Dark Cherry or Marigold. So far, the Apple Watch Series 7 sits comfortably around the wrist even as I am typing up this review – unlike my other classic timepieces, this one does not get in the way or feel uncomfortable after prolonged typing. I think it's a keeper.
We can go on and on about the Apple Watch Series 7 features, but look and wear-wise, we're sold. So, let's talk about price points. 
The Apple Watch Series 7 comes in aluminum, stainless steel and titanium casing; and are available in 41mm and 45mm case sizes. There is an option between stand-alone GPS or GPS + Cellular. Prices start at HK$3,199 and $3,999 respectively.
The Apple Watch Series 7 will be available in stores from October 15, 2021.
Also see: Get moving with new group workout feature on Apple Fitness+ app