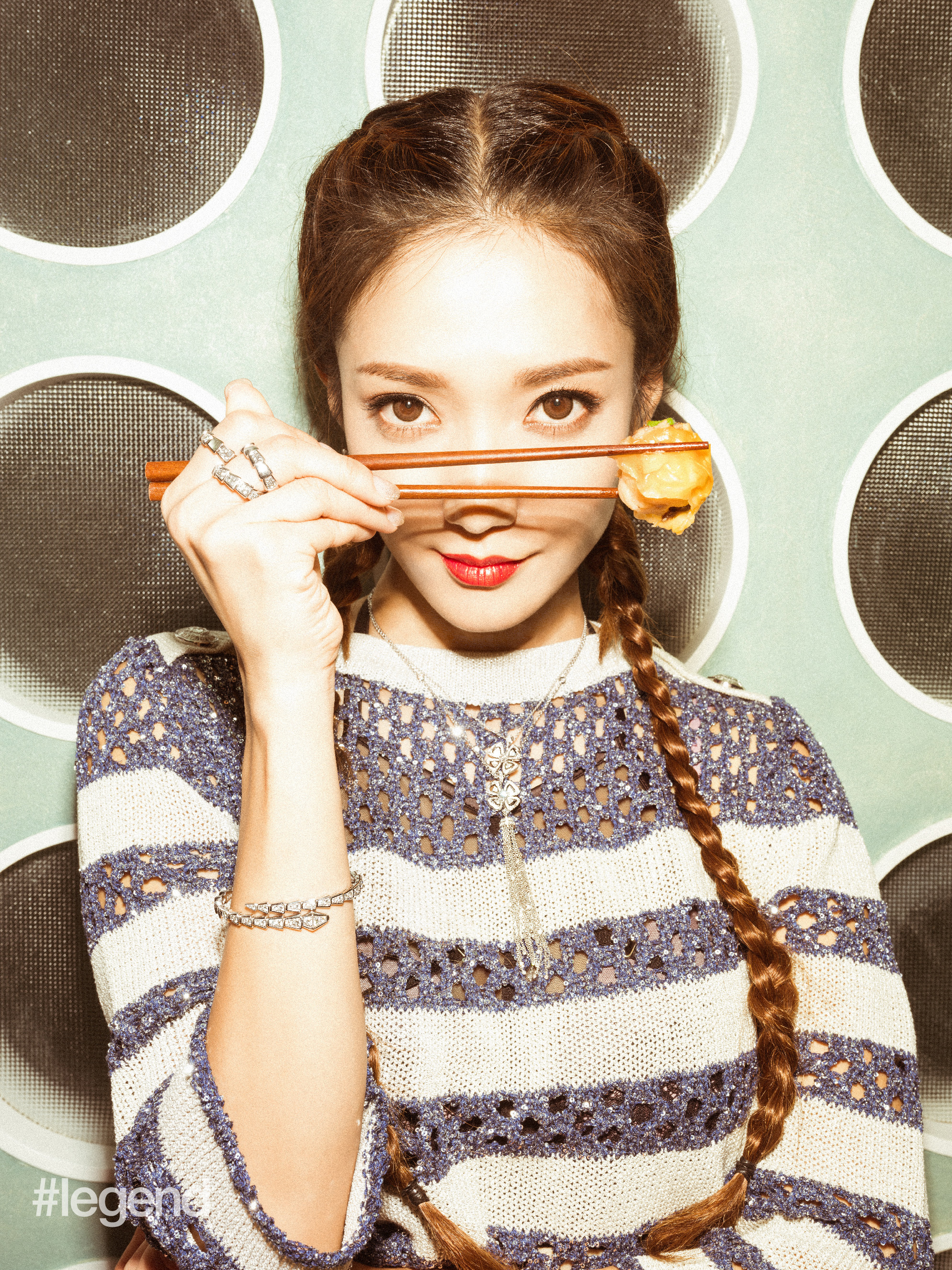 Television actress Grace Wong's eccentric and yet elegant sense of style and attitude inspire many in Hong Kong. Her piercingly large eyes, 'sad girl' eyebrows and edgy sense of style have become her signatures, and she without a doubt has potential to be one of Hong Kong's 'mean girls'. Before I met Grace, I always assumed that she was one to hold her cool and give off an air of unapproachability. Boy was I wrong.
The moment we were introduced, she was scoffing down a plate of char siu (barbeque pork) at John Anthony and I was met with the most enthusiastic smile and handshake. After she managed to swallow the big bite, she insisted I join her at the table and loaded my plate up with all of her favourite dim sum that had been ordered for the shoot – this girl likes her food. Immediately all of my preconceptions about her were dispelled and I wanted to be her new BFF and could imagine us braid each other's hair on a Friday night in while watching sappy reruns of Friends.
Wong wasn't like most of the actresses I had met in Hong Kong, there was something different about her. Ignoring what they say about speaking with your mouth full, we chatted over the course of lunch with our face holes stuffed to the brim with the delicious Chinese food at John Anthony and I eventually learned that she grew up in the Big Apple. Ah, so she's an American girl.
While she was born here, she spent most of her childhood and adolescence in New York City, between Chinatown, Brooklyn and the Queens, where American pop and urban cultures had a massive impact on her personality and aspirations. However, she still remembers of looking at the Manhattan Bridge and dreaming of coming back to Hong Kong, where she finally returned as an exchange student 11 years ago. After entering the Miss Hong Kong 2007 Beauty Pageant almost by accident, Wong started her career as an actress.
Best known for her role as Fa Man (花蔓) in popular TVB series A Fist Within Four Walls (城寨英雄), Wong has grown a lot since the days when she couldn't speak Chinese fluently and used to phonetically memorize her lines for every role. This year, her hard work paid off when she was nominated for the Best Lead Actress at the 2018 TVB Star Awards for her role as Ophelia Mok (莫希萊) in TVB series OMG, Your Honor (是咁的,法官閣下).
For #legend's January digital exclusive, we talk to Wong about her formative years between the US and Hong Kong, her diverse background and her long-lasting aspiration of becoming a pop-star and make dance music.
How would you describe what you're doing right now?
I'm having so much fun with acting. My Chinese is finally good enough so that I actually understand what I'm saying and it's really fun to be able to do all types of roles now. I think a lot more producers and directors actually trust me with more diverse roles now compared to before, when I was always like…the pretty girl or the girl from America on a student exchange. I just finished filming this drama where I play a psycho killer/sociopath, that was fun!
Listen to Grace Wong's December playlist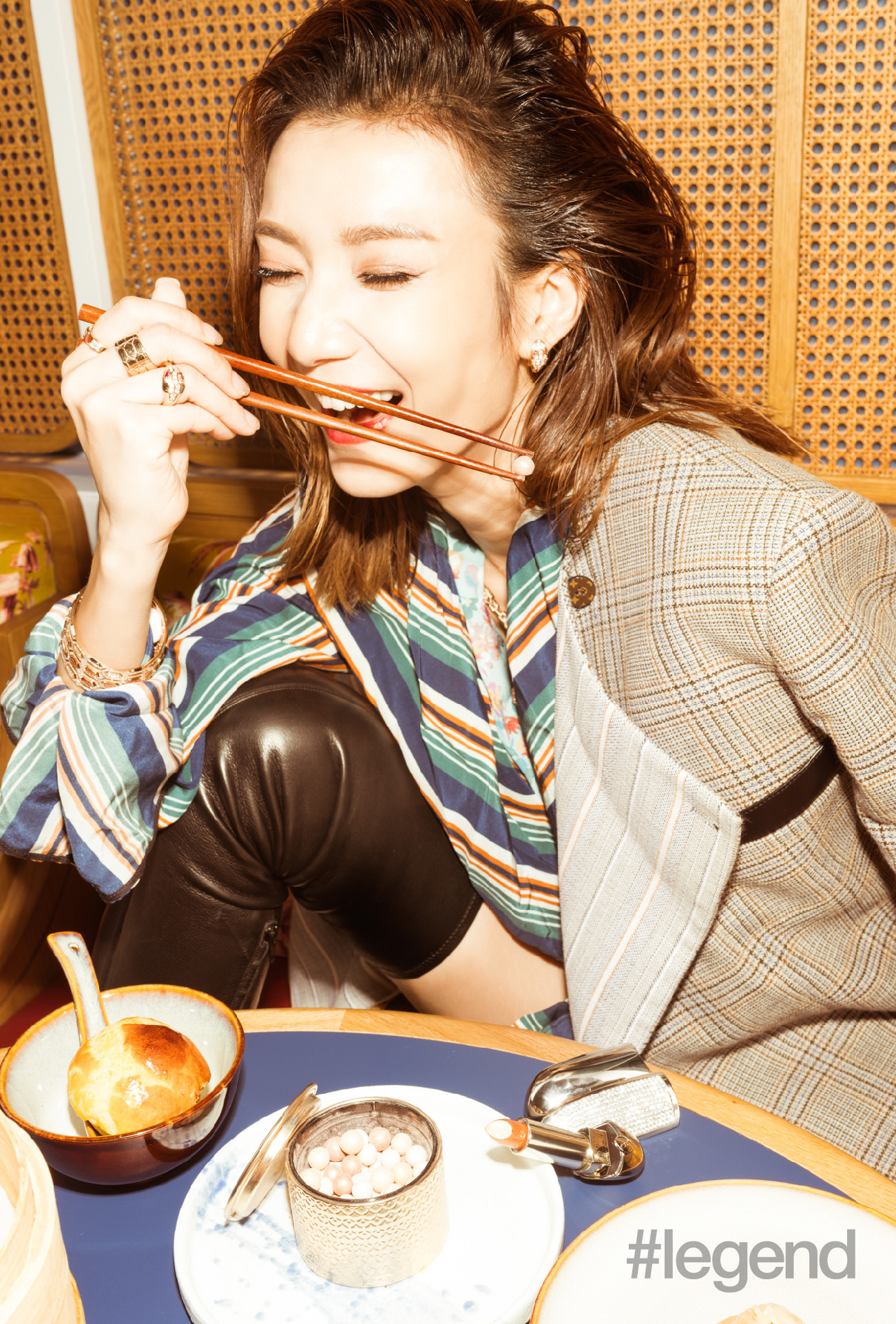 Was that a film or a TV series?
A TV series – I mostly do TV. After I got married, I feel like my whole life has kind of moved into the next season, which entails a lot more of just knowing myself, knowing how to express myself so my husband would understand, and also maybe pursuing other interests of mine – like music for example.
So, what's your background? You said you're always the girl from America.
I moved to New York when I was four. I was born in Hong Kong, but I think the whole New York culture really impacted me in terms of things like music and friendships. But when I came back to Hong Kong, it was like… it was actually quite a culture shock.
Which part of New York did you grow up in?
I lived in Chinatown for two years, then I moved to Brooklyn where it's so beautiful now. I grew up going up to my roof staring at the Brooklyn bridge, Manhattan bridge and Twin Towers – that was my favourite thing to do and my place to dream. I would imagine being in Hong Kong one day. It's funny – I've always wanted to come back to Hong Kong. My dad didn't understand. My older siblings didn't get why I wanted to go back to Hong Kong either, but I've always had dreams about Hong Kong since I was very young.
Why did you move there when you were four?
I think my parents just wanted to give us a better life and education. I lived in Queens for the last 8 years when I was there, and that was when I was surrounded by more Asian people. It just felt nice to be surrounded by all sorts of different people, and I miss that sometimes. I mean, there is a mixture of people in Hong Kong, but it's predominantly Chinese.
What's the best thing about New York?
It must be its people. Everyone's got swag. Everyone has their signature walk. They practice it – they strut the streets! If you do that in Hong Kong, people would be like, "Are you okay? Did you hurt your foot or something?" People really celebrate individuality in New York, whereas in Hong Kong, sometimes people criticise more than accept the way different people act, talk or dress. So that is something that I try to fight for, but I also like being able to speak to people here and blend in with them.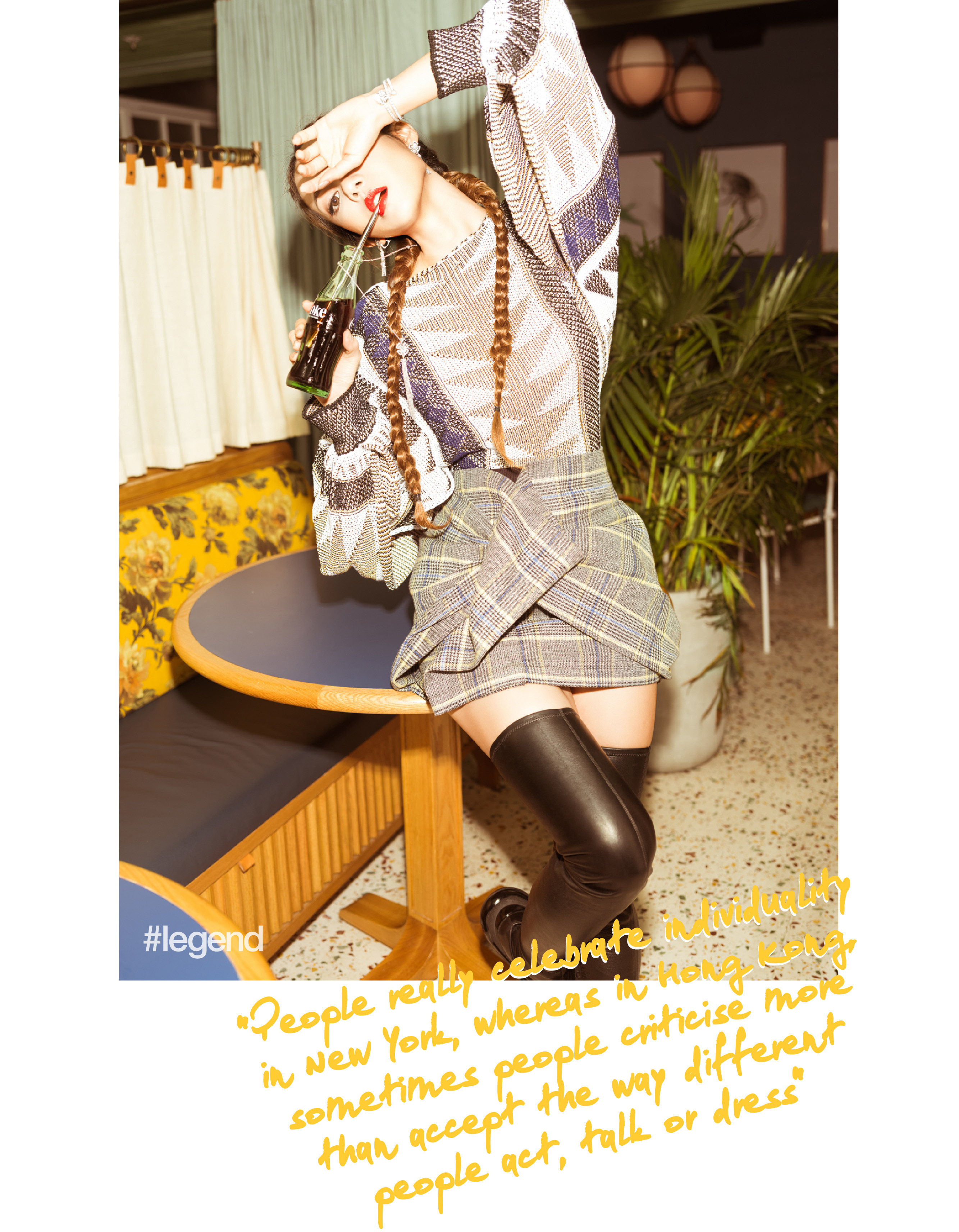 When did you come back?
I came back 11 years ago when I was 21 and I thought people here were very… you know, definitely less conservative, but no. Hong Kong is actually a quite conservative place, especially in the media – it's very different [from the US]. They tend to want to know a lot of little things about you that aren't the best things, so you actually grow to be quite protective of yourself, but I'm just trying to be myself all the time.
How did you get into the industry? Were you already in this industry in America?
No. I was finishing up college, and I did actually come back for an exchange program in Hong Kong. I was at CUHK, then my friends were like, "Oh, since you're staying for the summer, you should just try the Miss Hong Kong Pageant", and I was like, "Okay!" I didn't know any Chinese, so they helped me to fill out the form and create my introduction speech. They wrote it for me – it was so sweet, and yeah… I was the first runner-up.
Have you always wanted to be an actress?
I've always wanted to be a singer, like I'm a huge Britney, Christina Aguilera, Pussycat dolls, Beyoncé and Rihanna fan, but acting has been so fulfilling, especially in the past three-four years as my Chinese finally got better. In the beginning, it was like Shakespeare to me. I had no idea what I was saying so I was just memorising pinyin, and it was really challenging.
How do you act if you don't know what you're saying?
Exactly, how do you? You know what it means because people tell you the meaning, but when you're in the moment, you literally just have to pretend. I mean, acting is a game of pretending, but I think you can only pretend before you get on the camera. Once it's 'action', you become that person instead of still pretending to be that person. You can tell the difference between actors who are just saying their lines and those that make people go "oh my gosh, I'm totally feeling her" – that's when you can really enjoy it and get into it.
What's your favourite thing about Hong Kong?
The food is awesome! The Asian food here especially. In New York, I didn't eat Chinese food much. But Chinese food… especially when you eat dishes from different provinces– you're eating all sorts of things and you're like, "Damn! Chinese people really know how to make food!"
What's your favourite Chinese food?
I love Char Siu! You can eat it everywhere but when it's like cooked perfectly, it's crispy and crunchy on the outside, super tender on the inside.
When are you dropping your first album?
Oh man, it's a dream. I'm working on just one or two songs first to not put myself off for failure, but I really like dance music, but it's difficult in Cantonese. Like even in Taiwan and China, it's been growing a lot recently, especially rap and hip hop, but I don't know why it isn't a very popular thing in Cantopop. I don't feel like dance is celebrated enough in Hong Kong. They tend to think it's something you do when you go clubbing or pole dancing so it's something naughty, but it should be celebrated everywhere!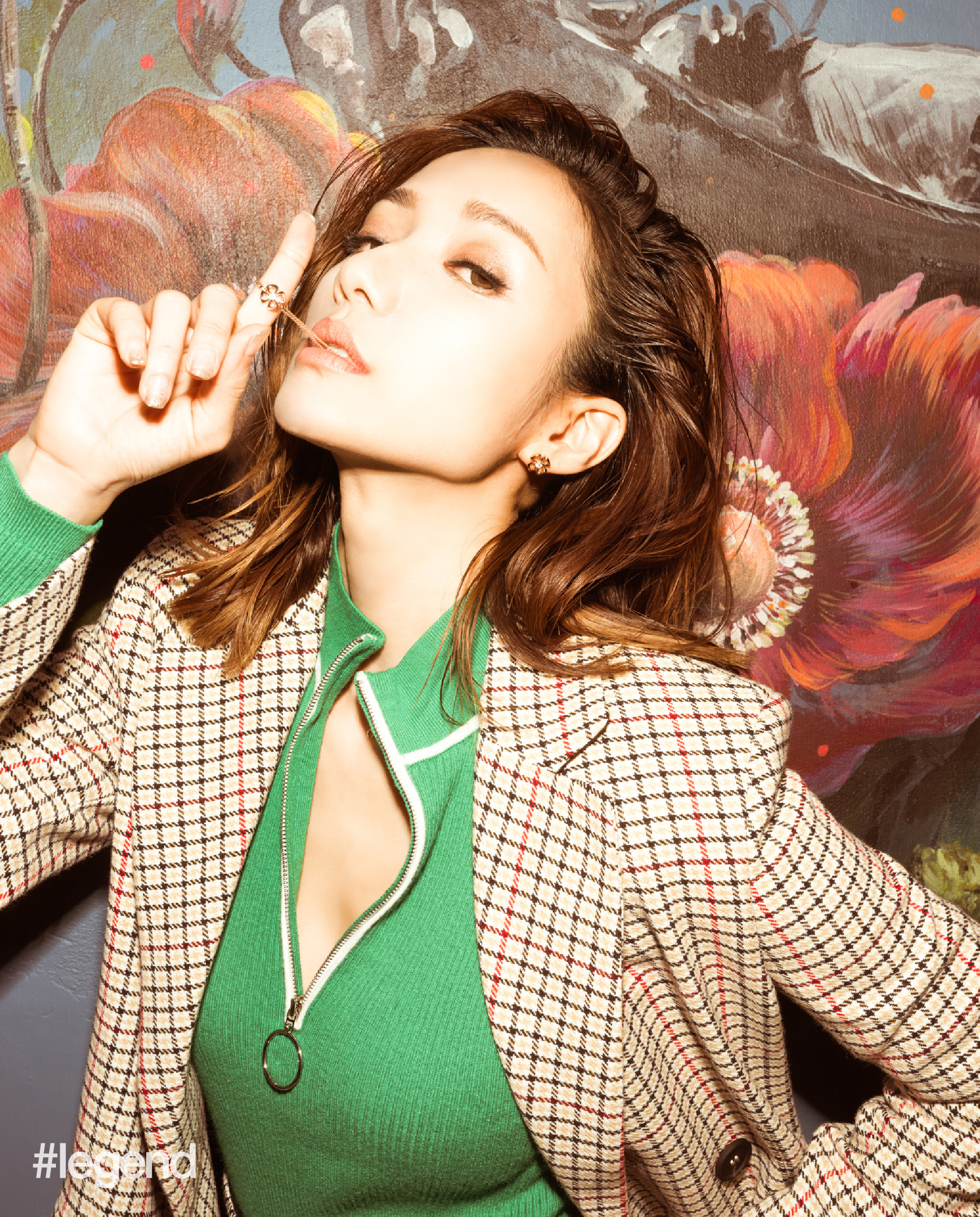 Art Direction / Kieran Ho
Video Direction / Ricky Lo
Videographer / Gary
Styling / Marco M Chan
Hair / Jamie Lee from Jamie Lee Hair
Make-up / Phoebe Yung from Phoebe Y Image
Location / John Anthony, Hong Kong
Jewellery / Bulgari
Beauty / Guerlain
Wardrobe / Balmain, Intimissimi, Louis Vuitton, Maje, Versace