Burberry
Frankly, if you were asked to name a British berry, you wouldn't be faulted if you blurted out "Burberry". The storied British brand was feeling nostalgic this season and Riccardo Tisci had quite an archive to dip into for this referential collection. There was the gothic, the Italianate, the sportswear and the heritage signatures in a 100-look assembly that delved into trench coats, duffle coats, blazers, dresses and even Gryffindor rugby (ahem, quidditch!) uniforms. Despite the equivocal and eclectic nature of the collection, Tisci was firm on certain matters: investment into sustainability and a more modern interpretation of Britishness. He opted for a more sophisticated tailoring that spans further than just a man or a woman in a trench coat, with customisations featuring chiffon sashes, soft caping and generous pockets. Last season was devoid of checks and this season seemed drenched in it; love it or hate it, there's no denying that it's quintessential Burberry. With such a lengthy show and so much to offer, there was a lot to take in.
Erdem
As the 2020s get off to a strange start, similarities and comparisons between the 1920s and the current decade are beginning to emerge. Set in the National Portrait Gallery and its current display of Cecil Beaton: Bright Young Things, a photography exhibition exploring the most glamorous and stylish set of the 1920s and '30s, this collection from Erdem Moralioglu seemed to be a similar work of art. There were direct replications and homages, as look one referenced arguably the brightest young thing, Stephen Tennant, and his slick black-glossed coat. The bias-cut flapper dresses, silver lamé and tinsel-ine dresses screamed a more opulent era than the current one, while the dresses, as flamboyant and opulent as they were, retained a contemporary appeal. Our grandmothers may have been drunk on the idea of freedom and post-war optimism (and possibly also Prohibition-era moonshine), but their love for the romantic and the beautiful has carried on through. The girls wearing this collection are likely to be drunk on ideas, too – but those of politics, post-apocalyptic pessimism and nihilism.
Jw Anderson
This collection spoke volumes – quite literally. JW Anderson had been musing about what it meant to enter a room. He landed upon the ability to fill it with a presence via a silhouette that's larger than life. The trapeze coats in tweed, wool and camel hair were inflated to almost humorous meme-like proportions. Despite the cartoonish sizes and magnitudes, Anderson brought us a neat and tidy season, with nothing overly ostentatious or hyperbolic – in fact, it was rather genuine and chic. An iridescent sheer dress, a windowpane checked coat with a plumed shawl underneath the collar and some Edwardian puff shoulders all had a sweetness about them; they were wearable, but in no way boring. Echoes of 20th-century haute couture reverberated throughout, as (double) bubble hems, tinsel tiers and bias-cut hems were optimistic and unapologetic. For those craving the Roaring Twenties, JW Anderson brought retro fabulousness that fans can't wait to wear.
Rejina Pyo
Something reactionary for this season, this was a fitting collection for the current state of things. Rejina Pyo's anxieties weren't unreasonable or unfounded, so to see a collection so serene allowed a moment of ease in such uncertain times. Her charm didn't shine as much as usual, but in a time of uncertainty, it's difficult to create anything that would encompass the whimsy for which she is known. More Notting Hill mum and less Lara Croft, Pyo still managed to create a collection that had a quiet badassery about it – after all, women are what hold society together, right? The context may have been reactionary, but there were no obvious protests here, nor were there any wild statements made; it was simply a showcase of what the designer does best. Seeking solace in earth and petrol tones, the silhouettes and structures were comfortable and unapologetic. Prowess and heroism were dominant without loud distractions or background noise.
Richard Quinn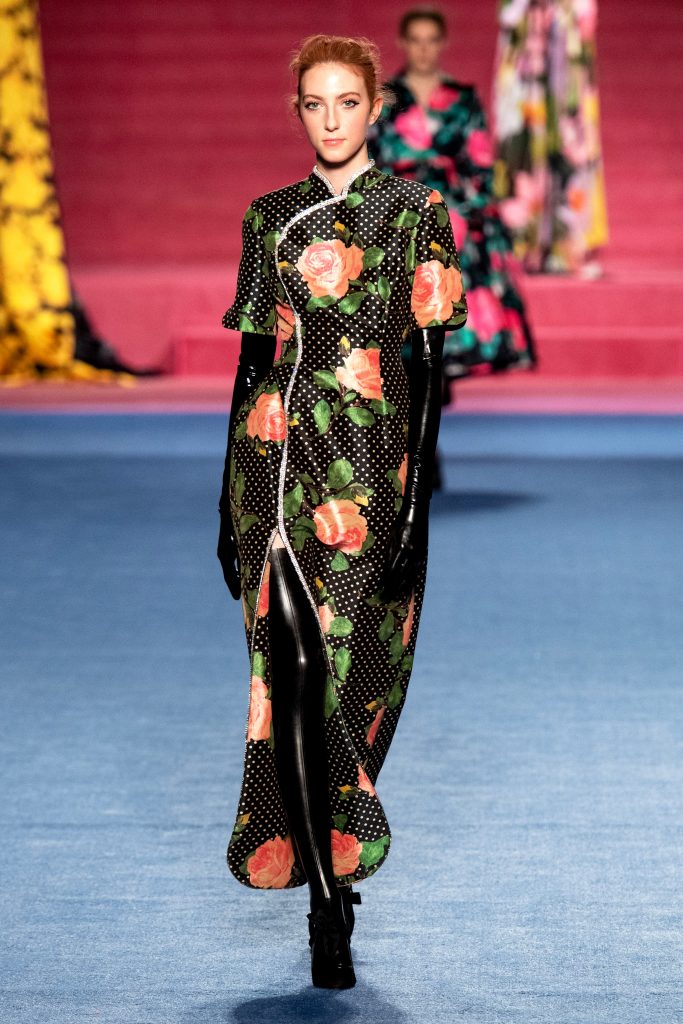 Amongst all the chaos in the world right now, Richard Quinn has a plan. Whether your persuasion is S&M or the macabre, or you're a romantic, Quinn has you covered. The show's openers were a work of sublimation… kinky, yet somehow completely conservative. The bedazzled gimp masks (his and hers, of course – it's all about equality in this house) melted into courtly outfits that were fit for an East London monarchy. But with "God Save the Quinn" adorning them, the collection was less monarchy and more anarchy. The gowns were ethereal, but with a kitsch, almost Red Queen regality. A rose-printed polka-dot cheongsam exuded a confidence and a duality rather unexpected – and with those latex accessories, it was hard to beat. Florals may be the preserve of spring, but the designer has made them his staple and in a time as dreary as now, they're a sweet reminder of something better to come. His final looks with pink puffball sleeves and enough bows to please JoJo Siwa radiated something ominous – or perhaps it's just the threat of pure unadulterated creativity and fun.
Roksanda
There's no doubt that Roksanda Ilincic delivered in the colours department. There was a certain robustness about it all, a firmness that came from within, that was undeniably amorous. With such resplendent tones, she unveiled a basket of fruit that was as sweet as it was rich. Lengthy, dramatic volumes returned, and the cocooning and envelopment of the shapes were light and fluid, juxtaposed against heavy-knit coats and jumpers. The knits were nothing short of grandma-ish inventions, yet they echoed an artisanal craft. The harlequin patchwork silk dress flowed freely and regally, composed of leftover fabrics from the collection, once again proving that sustainability is a facilitator of beauty. The taffeta works drew inspiration from American artist Lee Krasner, combining sketched images and white paint to create black-and-white farragoes. This marriage of colour was an homage to the work of the abstract expressionist, who yo-yoed between the vibrant and the mute.
Roland Mouret
In terms of fashion, culture and societal norms, the world has come a long way since the 1980s. Mouret was a victim of the homophobia and hate so rampant in past decades, particularly in an era when his effeminacy was shunned. But today, things have changed – and it's a time for celebration. The subdued rounded shoulders, blouses and cloaks were all softer and less sharp, but nevertheless strong and mighty. The '80s also celebrated radicals, with punk rock designer Judy Blame a key player in the field of sustainability, so Mouret played to the tune of Blame's ideology. Bags made with ring pulls were as cool as they were eco-friendly. The designer creates in accordance with values, not trends, so with sustainability in mind, the overindulgence of the Gallic was pared back and replaced with more reduced sensibilities. This isn't to say there wasn't opulence or grandeur in the work, especially as his dresses had a brooding luxury about them, but this collection articulated something more thoughtful and bona fide.
Simone Rocha
There's something otherworldly and ethereal about Simone Rocha's collections each season. With an enigmatic focus of "procession, baptism, birth, life and loss", she led with calm: oyster and off-white tones of roped knits across baptism dresses. The baptismal clothing was somewhat textbook, with crisp cotton dresses, tulle layers, puff shoulders and naïve detailing – but as always, there was something more baleful and menacing lurking in the shadows. It came through mourning and a punkish edge, with floral appliqués and blood-red satin sashes interwoven throughout. The designer admitted she "went a bit papal", giving a nod to the bishop sleeves, the ceremonial red, the celestial blues and the smock dresses. She's Irish, so the Catholic influence is no surprise; exploring the experiences of women, she looked to the Madonna. The Chantilly lace bridal veil concluded the show – a testament to the humility that women are supposed to show. Our Madonna was clean and pristine, and her pearl tiara was dainty, but while she was supposed to offer solace, there was something haunting about her. Was it that she was hauntingly beautiful, or is it because women are haunted by the ideas that are enforced upon them?
Tommy Hilfiger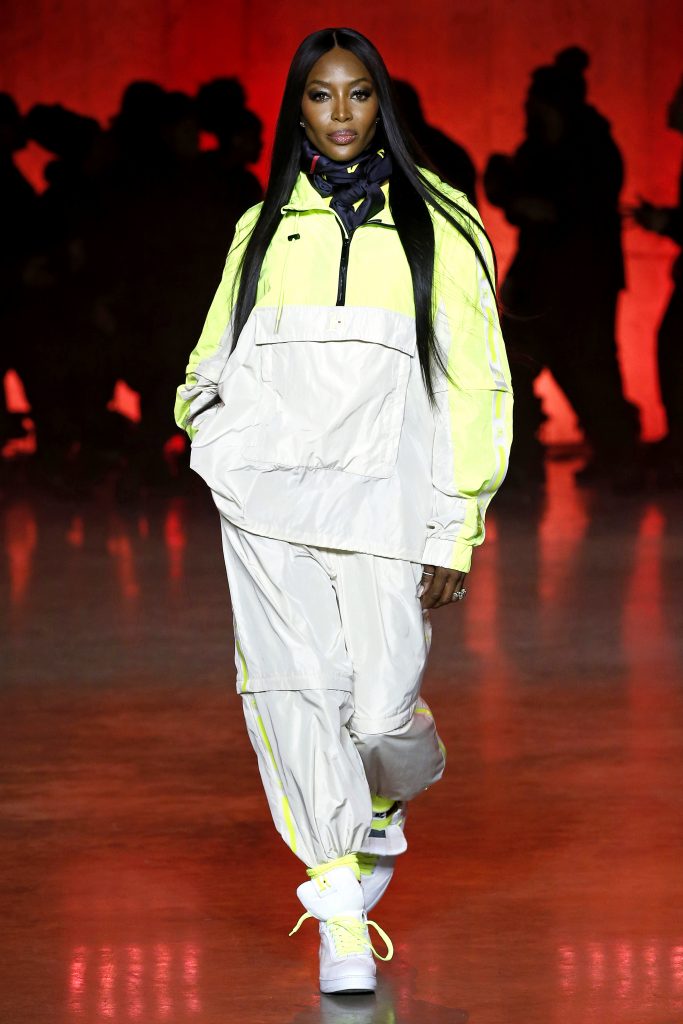 The Tommy x Lewis collaboration between Tommy Hilfiger and Lewis Hamilton was a bit of a low-key affair – less block party and more environmentally conscious streetwear. With a push for diversity and sustainability, the collection was aimed at today's generation, where age, gender and race don't really matter. A trio of Hilfiger, Hamilton and H.E.R. was bound to reap something cool – and with Naomi Campbell opening the show, it got off to an epic start. With her legendary strut, it was hard not to be persuaded that everyone wants to wear neon yellow and grey tracksuits. (And with Hilfiger being one of the godfathers of streetwear, who could really do it better?) A collection of luxe streetwear with an element of prep may not be what everyone would readily admit to wanting to wear on the daily, but comfort is key – especially when plant-based clothing is as environmentally responsible as it is stylish. The show was a star-studded event throughout, with further participation from Luka Sabbat, Jodie Kidd, Winnie Harlow and Lottie Moss. The emphasis in this collection was clearly on the now.
Victoria Beckham
It's been a long time since Victoria Beckham wore a miniskirt with her fellow Spice Girls, but recently the designer remarked that she's wanted to wear something shorter. It's not the first hemline revolution, but Posh Spice's choice to swap the mid-calf length for the knee-length skirt seemed almost outrageous. The skirts weren't the only items that were revived with scissors; trousers also became culottes and there was a silent rebellion about it all. Beckham has been an icon for years and has been in the public eye for what seems like forever, but her arc, both in her attitude and her style, has been admirable. As much as she's scrutinised by the media, she scrutinises her own work even more so, which speaks to her work ethic and the transcendence of her collections. The silhouettes weren't complicated, but there was an effortless sexiness – possibly even collegiate, with the tweed and the knee-length skirts. The skin-tight boots brought a certain toughness, harshening the blouses and their billowing sleeves. There were black dresses galore – you can never have too much of a good thing. Beckham knows what she's doing and it's ever-present in her work; she speaks to the modern woman just as much as she embodies it.