True to form: Andrew Kudless joins forces with Louis Vuitton
By: #legend
December 8, 2020
American designer Andrew Kudless and French luxury house Louis Vuitton join forces in the latest addition to the Objets Nomades collection of travel-inspired furniture. Tama Lung learns the secrets behind Swell Wave  
As an architect and designer known for exploring craft, structure, form and intelligence in the natural and synthetic worlds, Andrew Kudless has created everything from chairs and chandeliers to urban parks and pavilions. In most cases, a client will come to him with a specific request from which to begin the design process. But when Louis Vuitton tapped him as the first American to design for its limited-edition Objets Nomades collection the brief was entirely unexpected.  
"They reached out and, pretty amazingly, they just asked me to look at the collection and see if there was something missing," says the San Francisco-based founder of Matsys, whose only previous encounter with the luxury brand was when they had neighbouring installations at DesignMiami a few years earlier. "As an architect, you don't often have a client come to you and say, 'I don't know if I want a house, an office building or a skyscraper; just, you know, what am I missing from my life?' That doesn't happen. It was intimidating but also really freeing because I could do anything I wanted."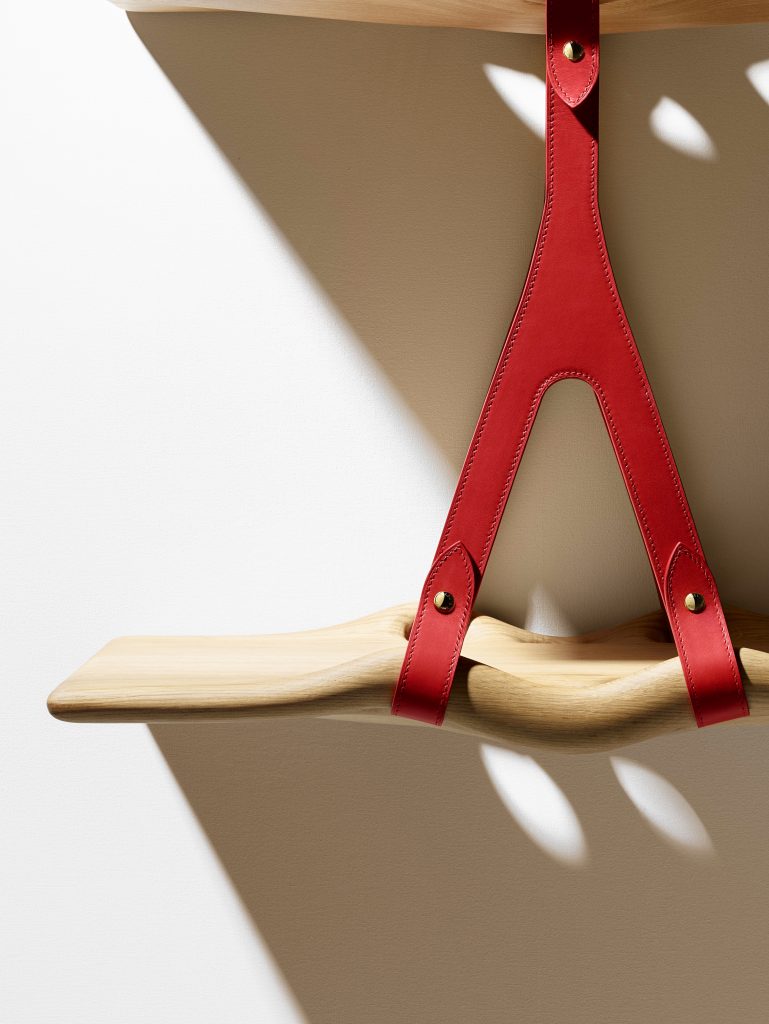 Kudless started by presenting a range of ideas, including several rugs, some lighting and various chairs and seating pieces. "They definitely didn't like some of them. But they liked a couple of others so we talked about them for a few more weeks. Then they decided against the ones that they had liked," he says. "But they kept asking for more ideas. And after maybe a month or two, I presented three different shelves and there was one they liked. They selected a hanging version of the shelf and after another month or so, they asked if I could design a standing version."
The result, Swell Wave, is a set of shelves made from smoothly polished oak held together by straps made of Louis Vuitton leather. The flowing forms are meant to resemble rocks sculpted by wind and rain over centuries, while symbolising the free-spirited art of exploration and movement embodied by Objets Nomades. The hanging version has three shelves connected by leather straps while the standing version has five shelves with a metal frame covered in leather.
While Kudless was asked to think about travel when it came to the design, he opted to take a more abstract approach. "I was less interested in travel in the literal sense. I wanted to evoke the sense of tension that comes with it," he explains. "I think travel is really interesting, because you feel you're being pulled in different directions. There are the joy and surprises that come with adventure and there's also the security and warmth of home, of family, of friendships, things like that.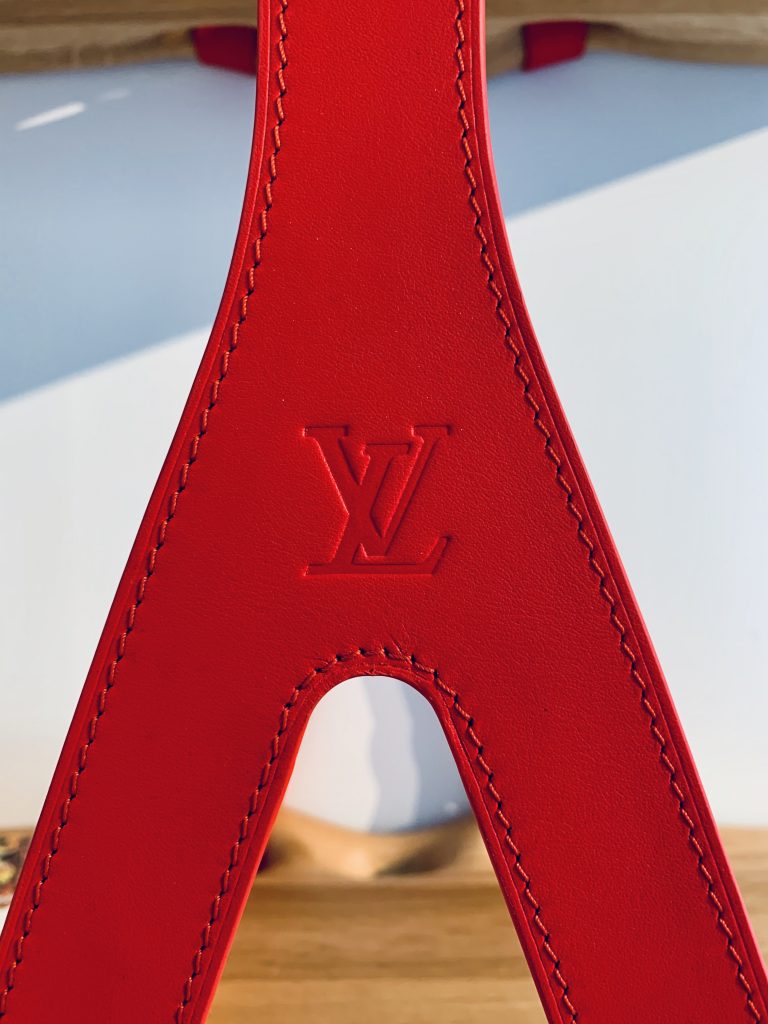 "So I wanted to use the shelves almost as a metaphor — how do I work with the idea of tension, things that are being pulled in different directions? I wanted to use a material that could work in tension so that you'd feel how the leather is being kind of pulled apart as the shelves hang. But at the same time, these heavy oak shelves, they're also bending to the forces of the tension so that they start to bend up and around, almost like a tree bending in the wind. It's very strong but yields to the wind."
It's this idea of integrating form, material and fabrication that defines much of Kudless' work, along with an appreciation for natural and organic shapes. "I'm very inspired by nature and if you think of almost any form in nature, living or nonliving, it's impossible to understand it without also understanding where that form came from and how it performs in the world," he says. "You can't really understand the form of a mountain or how that mountain came into being without understanding the material the mountain is made from, the weather around it, erosion and things like that.
"I feel like a lot of the time in the design world, we can take the form of something that's super abstract and it has nothing to do with the material or its making. In a lot of my work, instead of conceiving of a form and then backtracking and trying to figure out what material we should use or how we should make it, I'm trying to think of those things in a more integrated way so that the form emerges out of an understanding of the material."
Once the form or design is confirmed, the challenge often becomes finding a partner with whom to entrust the actual production or construction. In this case, however, Kudless had complete faith in Louis Vuitton.
"I like playing with people's sense of perception in that there's something that really draws them to the work – a kind of sensuality or desire to be close to it"

Andrew Kudless
"You know, I had never worked with leather. So I was just guessing about how something would go together," he says. "But I could hand a sketch over to them and they'd use a detail they'd used in a purse or something like that before. I could totally hand it off to them and trust that they would do it. I didn't reinvent some system; they already knew what to do."
The designer was particularly concerned about the leather straps and whether they would stretch under heavy weight. But the craftspeople simply used the same construction as the straps for Louis Vuitton handbags, whereby a very strong material like carbon fibre is embedded within layers of leather to prevent it from stretching.
The same approach was used for the free-standing shelf, which Kudless insisted had to look as if it was also suspended in the air. "I was very stumped at first because I was like, the whole idea of the project is that it's hanging. How do you make it not hang?" he recalls. "I came up with the idea to use a unique kind of steel that instead of being round is more like an oval shape so that when you look at one of the columns it looks like the width of the leather. When I watch people come up to the shelf, even if they haven't seen the hanging version, it looks like it's hanging. They'll go around the back to see if it's attached to the wall. They'll look up and think, 'How?' It's like a magic trick."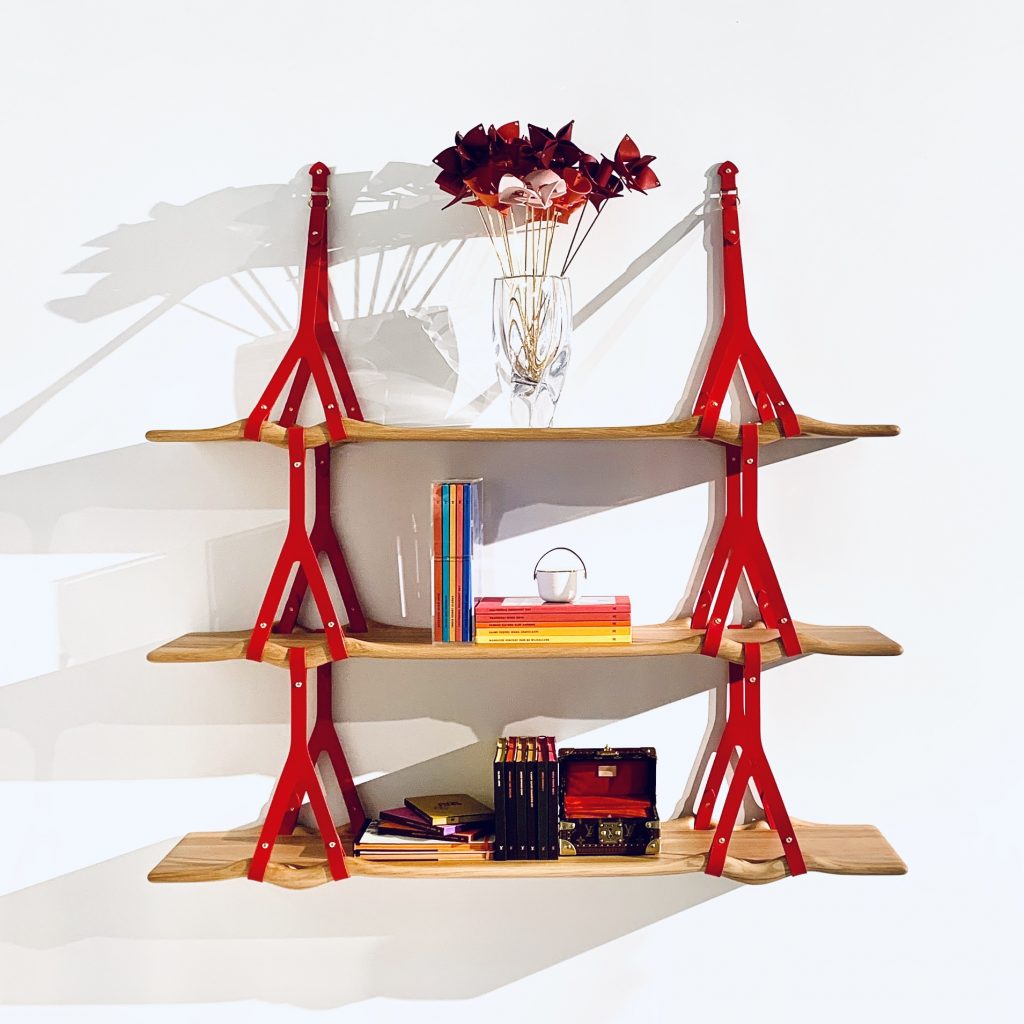 In the end they used a 3D printer to create aluminum pieces that were then wrapped in leather to mimic the straps on the hanging version. And despite the hanging version being what Kudless considers "the ideal of the project", he now likes the free-standing version just as much because of the way it makes people think about and interact with the piece in unexpected ways.
In fact, Kudless is always careful to consider how people will react to his work. "I want people to touch the work, in a way. I want it to feel used and to be weathered, " he says. "I want people to have that sense that they're free to interact with the piece and that it's not just an art object that's trapped inside a glass case. And I like playing with people's sense of perception in that there's something that really draws people to the work, kind of a sensuality or a desire to be close to it. I want to encourage that.
"With the shelf, the design of the curves went through many iterations, models and renderings – all to understand how to generate the curves so that you had the sense not only that the piece was undergoing some kind of physical force but also that you wanted to rub your hand along it and feel the smoothness of that curve."
For Kudless, it's obvious that his work doesn't end once a sketch is handed over to the craftsman. "I try very hard to understand how I can take some of the craft-based knowledge and integrate it into the design process because I feel that better objects and better buildings will come about if you have a more integrated understanding of the relationship between the material, the tools and the forms."