#legendeats: 10 things to eat in Hong Kong this June 2021
By: Natasha Gillespie-Wong
June 15, 2021
With the weather heating up and the thunderstorms rolling in, here are some of the best dishes to refresh, replenish and take your tastebuds on a journey this June.
Trout Roe Tartlets at Bâtard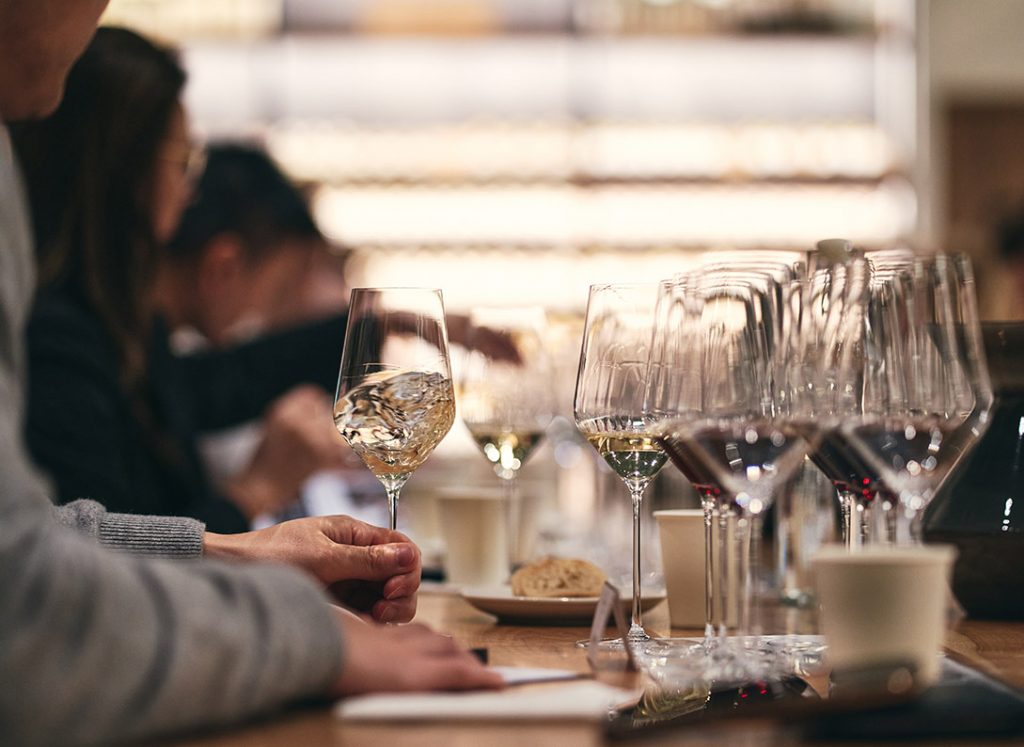 In its first year, Bâtard has established itself as a go-to spot for a laid-back, high-quality experience. Combining the talents of The Fine Wine Experience and Piccolo Concepts, Bâtard serves elevated comfort food paired with the world's finest wines. The menu delivers simple, uncomplicated dishes that complement the 4,000+ unique wines available, ranging from Bordeaux to Riesling.
What to order: The rich Trout Roe Tartlets (HK$180) with a contrasting crisp white wine. The salty roe cuts through the floral bouquet of the wine perfectly.
Bâtard, Shop E, 165-166 Connaught Road West, Sai Ying Pun, Hong Kong, +852 2318 1802
Tacos al Pastor at Pablo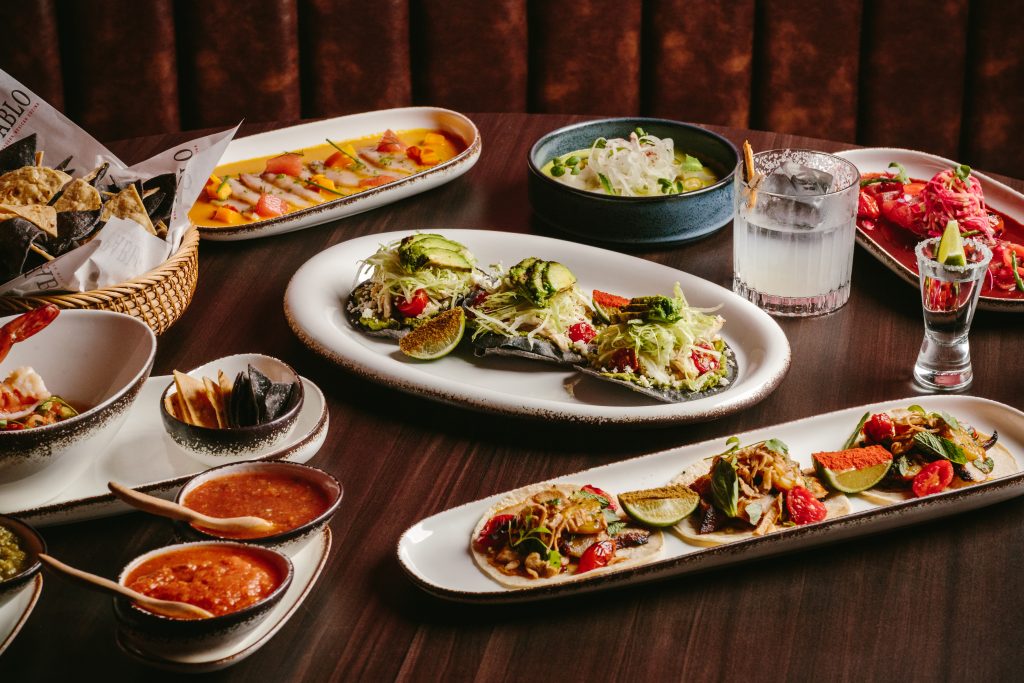 Inspired by the abstract artist Picasso, Pablo mixes and matches ingredients and flavours to create an all new fusion cuisine. The result is an eclectic mix of familiar Asian and Mexican flavours in new iterations.
What to order: The pork tacos al pastor feature marinated pork neck, a widely used ingredient in Southeast Asia, that is grilled to perfection to maintain the juicy, tender texture. Topped with sweet grilled pineapple and distinctly Asian herbs such as mint, Thai basil and lime leaf, the flavours bring a whole new dimension to traditional Mexican fare.
Pablo, G80-85 Tsim Sha Tsui Centre, 66 Mody Road, Tsim Sha Tsui East, Hong Kong
Joe's Appetiser Trio at Tokio Joe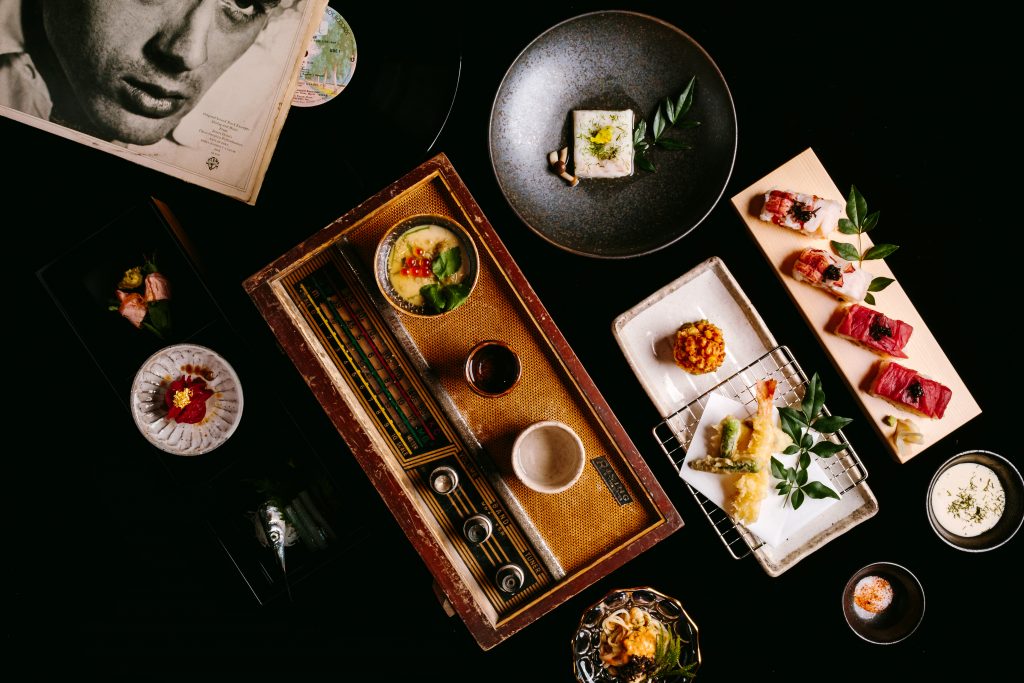 Tokio Joe, Hong Kong's longest running omakase – a Japanese term meaning "I'll leave it up to you" – has unveiled all-new menus and a swanky new interior. The speakeasy vibe and 1950s-inspired records adorning the walls are the ideal place to sit and watch the chefs work their magic.
What to order: Joe's Appetiser Trio, featuring a silky grilled oyster topped with Japanese mayonnaise, spicy salmon tempura and white fish with yuzu ponzu. The warm, rich appetisers offset the ice cold sake perfectly. Share a tipple or two with the chefs from seats now on both sides of the bar.
Tokio Joe, 16 Lan Kwai Fong, Central, Hong Kong, +852 2525 1889
Braised Glutinous Rice at Tin Lung Heen x Perfume Trees Gin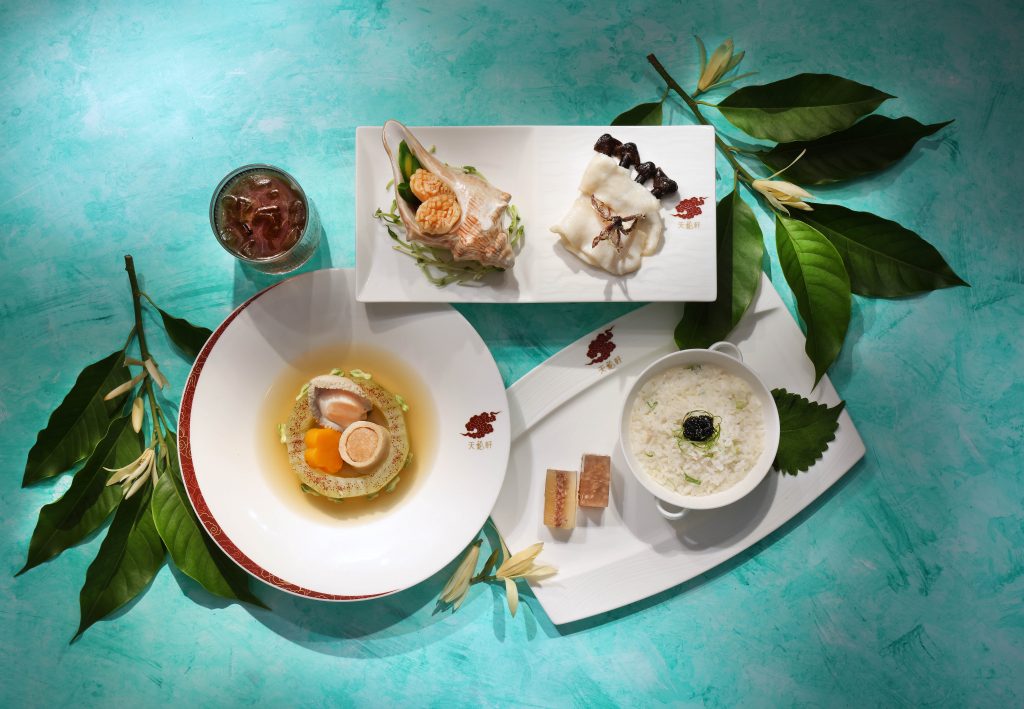 Collaborating with local brewery Perfume Trees Gin, Tin Lung Heen have created an a la carte menu of dishes infused with the fresh, summery notes of gin. The month of Dragonboat Festival would not be complete without some glutinous rice so why not try chef Lau's luxurious spin on the traditional zong zi.
What to order: Topped with diced garoupa, caviar, beef shin and a few drizzles of Perfume Trees gin, the sweet, sour and bitter flavours of the zong zi are a great way to round off the meal and soak in the spectacular view from the 102nd floor.
Available until 31 August
Tin Lung Heen, The Ritz-Carlton, Hong Kong, Level 102, International Commerce Centre, 1 Austin Road West, Kowloon, Hong Kong, +852 2263 2270
Potato & Cheese Hash at Grain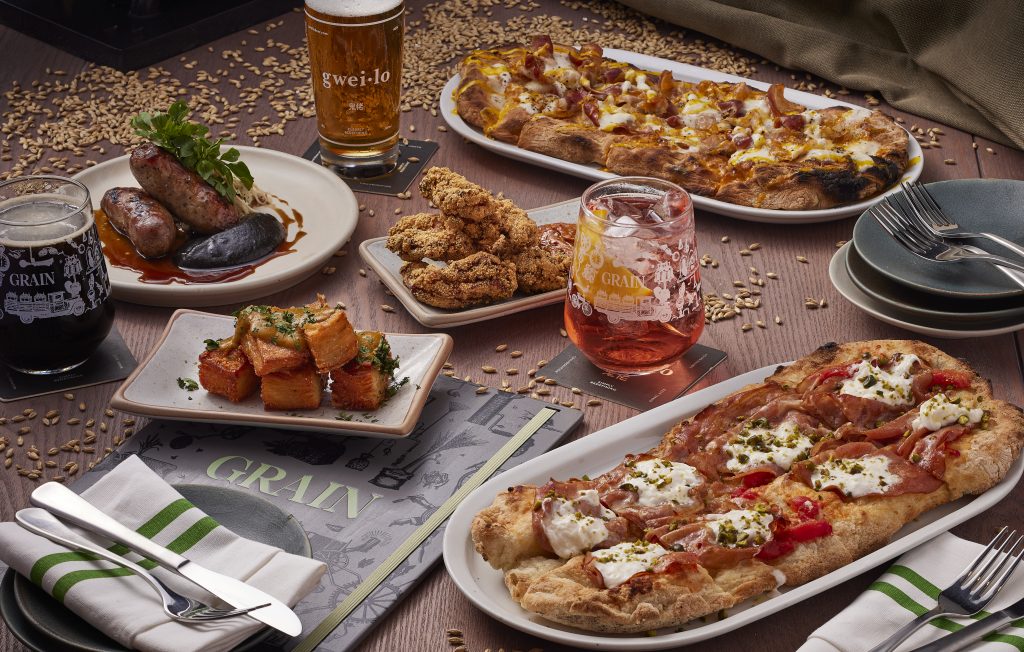 In a new Kennedy Town establishment, Woolly Pig Hong Kong has partnered with Gweilo to open Grain. A restaurant and brewlab hybrid, the spacious craft beer bar and restaurant was formerly a flour store, hence the name. If you're looking for gastropub food with beer and cocktails on tap, Grain is the place for you.
What to order: Chef Matthew Ziemski puts a modern twist on British cuisine with his potato and cheese hash (HK$175) featuring rich Lincolnshire poacher cheese, hashbrown, roasted celeriac, watercress emulsion and black truffle. But, the pièce de résistance is the marmite gravy, a flavourful tribute to the UK.
Grain, Shop 1, New Fortune House, 3-5 New Praya, Kennedy Town, Hong Kong, +852 3500 5870
Chocolate Trio at The Peninsula Boutique Cafe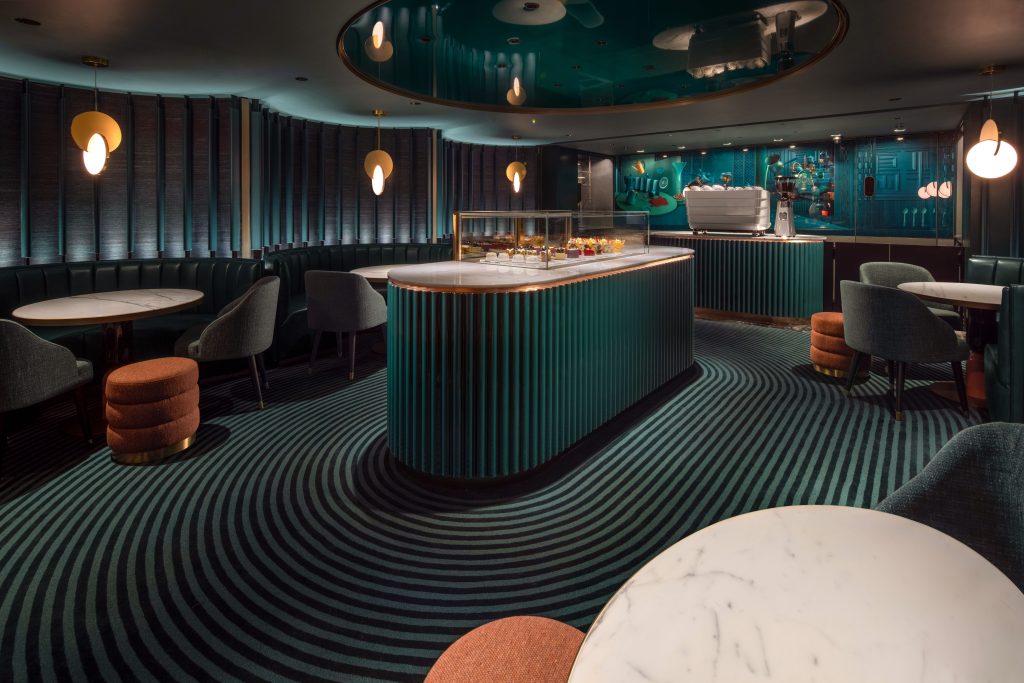 Tucked away in the Peninsula Arcade is the newly opened Peninsula Boutique & Café. Bringing iconic pastries and parfaits from the Boutique to a sumptuous space, the lavish interiors speak to the Peninsula's iconic heritage, boasting deep colours and rounded edges with gold highlights.
What to order: The chocolate trio featuring page hats – 3D-printed chocolate shells filled with smooth ganache – offer three different flavours (passionfruit, raspberry and smoked cocoa) and the perfect tart and sweet combination.
The Peninsula Boutique & Café, The Peninsula Arcade, Salisbury Road, Tsim Sha Tsui, Kowloon, Hong Kong, +852 2696 6969
Caprese Salad at Hungry Pal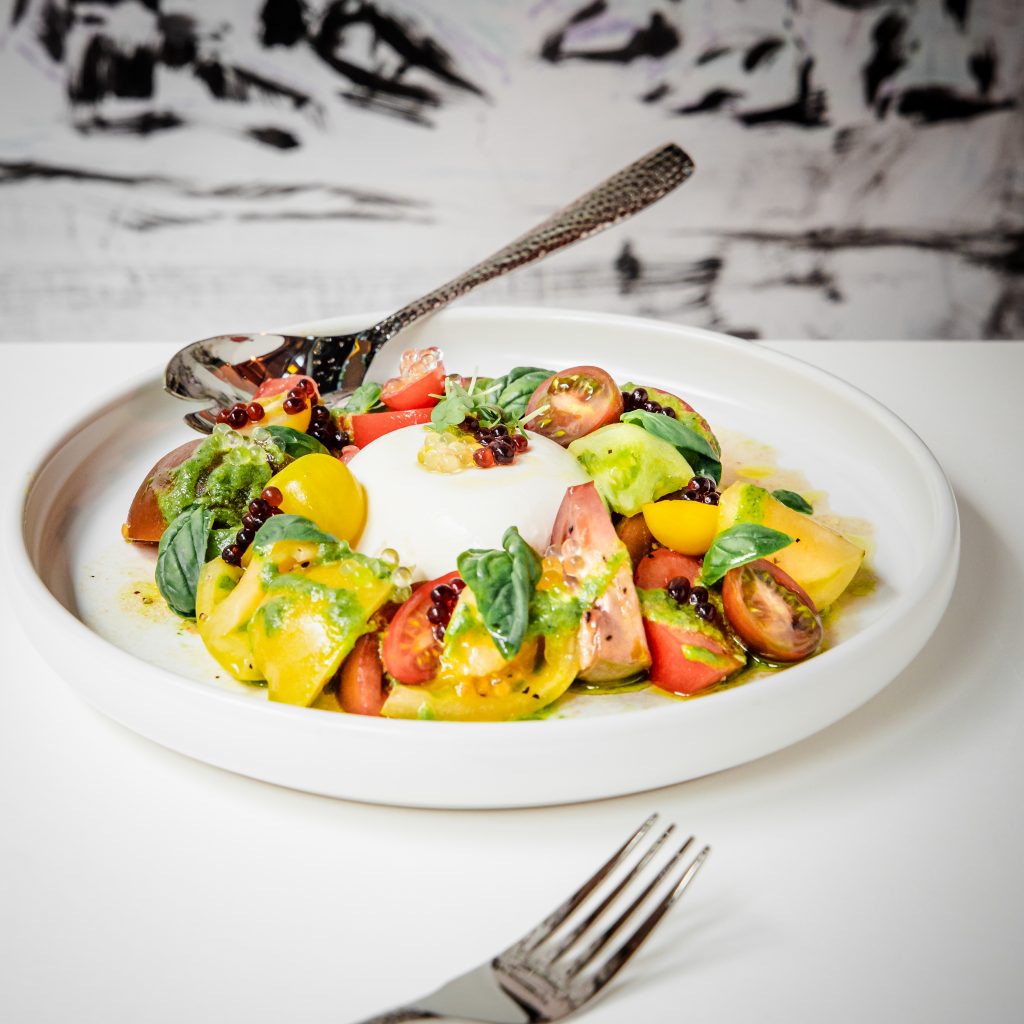 New to Elgin Street, Hungry Pal is a gastropub helmed by three culinary industry veterans, Bikal Ghale, Ashok Lama, and Ganga Gurung who boast stints at Carbone, Bueno Aires Polo Club and Veda.
What to order: A refreshing modern twist on a Caprese salad (HK$168), Hungry Pal's version comprises burrata, heirloom tomatoes and balsamic and yuzu pearls. The balsamic and yuzu pearls pop in your mouth, the bitter flavour complemented by the sweet heirloom tomatoes and generous leaves of basil.
Hungry Pal, 11 Lower Elgin Street, Central, Hong Kong, +852 2635 4555
Baked Jackfruit Samosas at Chaat x Karana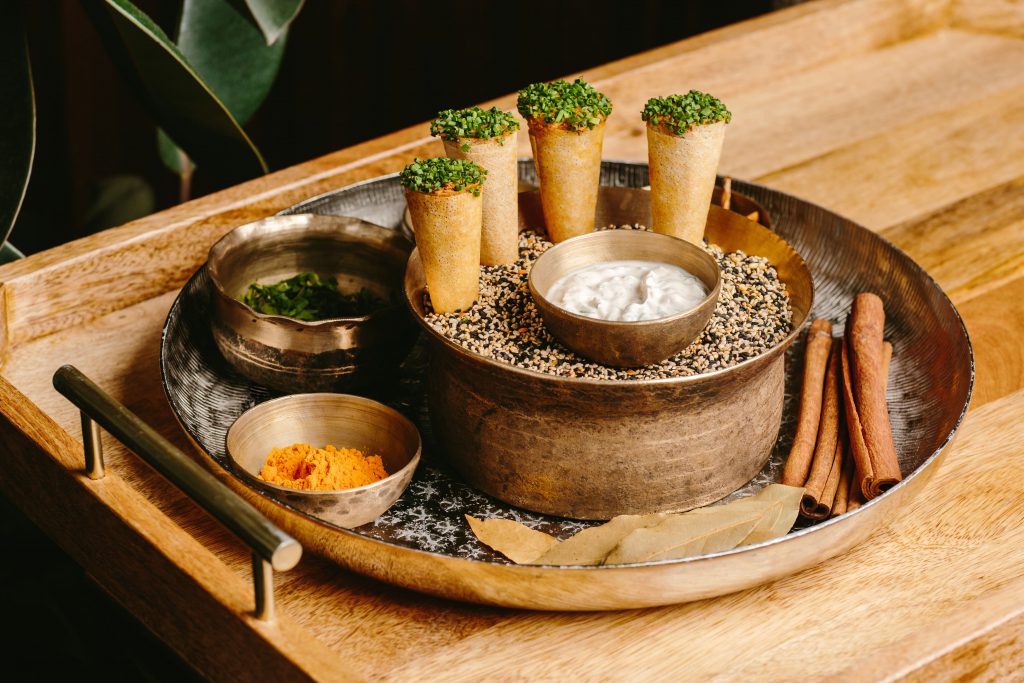 Chaat is taking strides towards a more sustainable future with a plant-based version of Chef Manav Tuli's signature baked lamb samosas, this time made with Karana whole plant-based meat.
What to order: The baked jackfruit samosas, featuring plant-based 'pork' made from jackfruit, have a naturally meat-like texture enhanced by the tangy, spicy flavours from Chaat's very own spice room. You would never know that they were meat-free.
Chaat, 5/F Rosewood Hong Kong, Victoria Dockside, 18 Salisbury Road, Tsim Sha Tsui, +852 3891 8732
Omakase at Sushi Yonjugo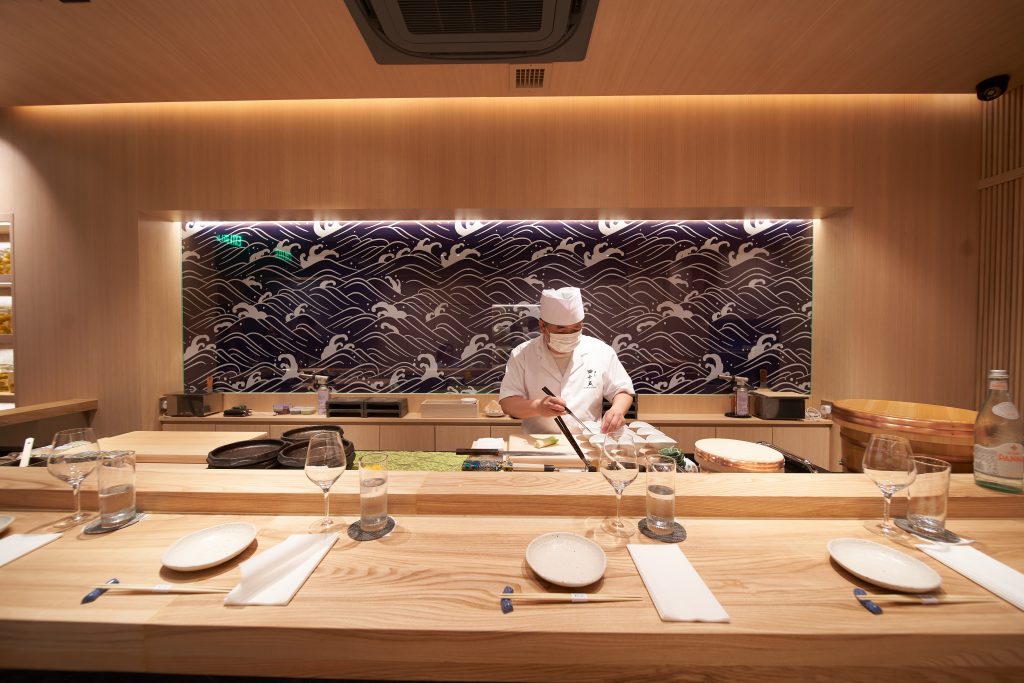 For a tiny nine-seater restaurant, Sushi Yonjugo serves up excellent omakase with a lot of theatre. Chef Milton Lau speaks to Japan's best producers at 4am every morning so that the very best of ingredients can be flown into Hong Kong by 10am. Every menu is tailormade according to the catch of the day, but uni remains a stalwart on the menu. Try two types of creamy uni expertly stacked on top of kinki fish from Hokkaido, silver codfish and black truffle.
What to order: The omakase set menu for lunch or dinner
Sushi Yonjugo, 35 Staunton Street, Central, Hong Kong, +852 3689 1045
Plant-based Meatball at Impossible Foods: Plate-to-Planet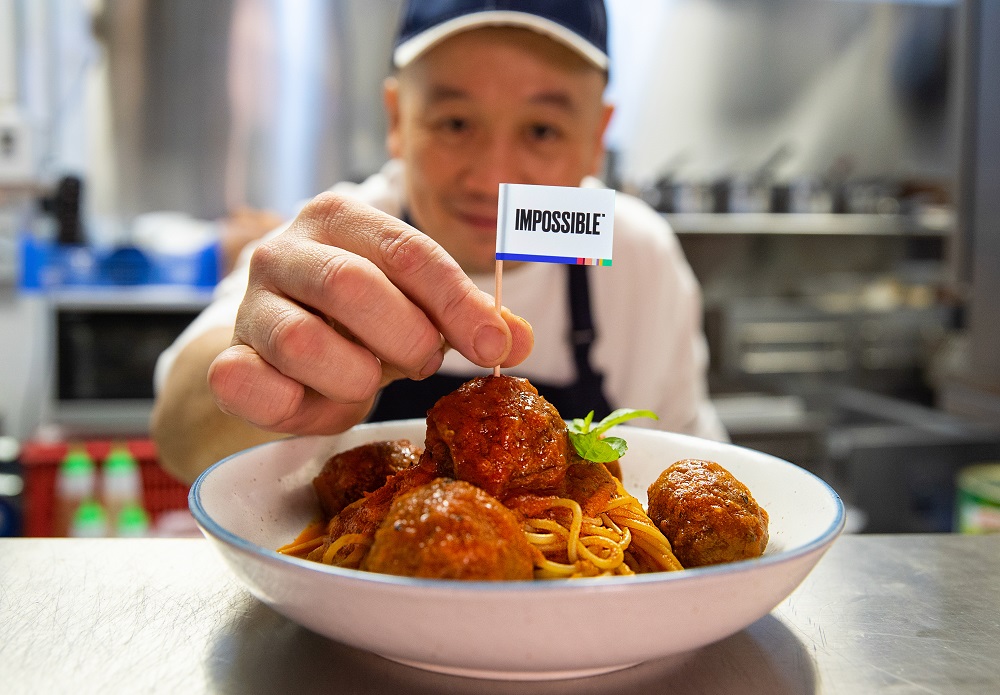 For a limited time, Impossible Foods has partnered with Vermont-based NGO One Tree Planted to plant a tree for every Impossible dish ordered. So, you can rest easy knowing that you're doing your part to support the environment, while indulging in some guilt-free fare. Here in Hong Kong, Posto Pubblico, alongside 50 other restaurant partners, are offering classic menu items in a vegetarian and vegan-friendly format using Impossible meat.
What to order: Try Posto Pubblico's plant-based meatball, as tender and flavourful as the real deal, without the biting impact on the environment.
Posto Pubblico, 28 Elgin Street, SOHO, Central, Hong Kong, +852 2577 7160