Art attack: The digitalisation of art fairs
By: Zaneta Cheng
June 9, 2021
After two years, Hong Kong finally saw the return of Art Month with smaller-scale shows that remained somewhat the same but were digitally very different. Adeline Ooi of Art Basel and Corey Andrew Barr of Art Central tell Zaneta Cheng why a physical show remains necessary even as they innovate with new hybrid art-fair formats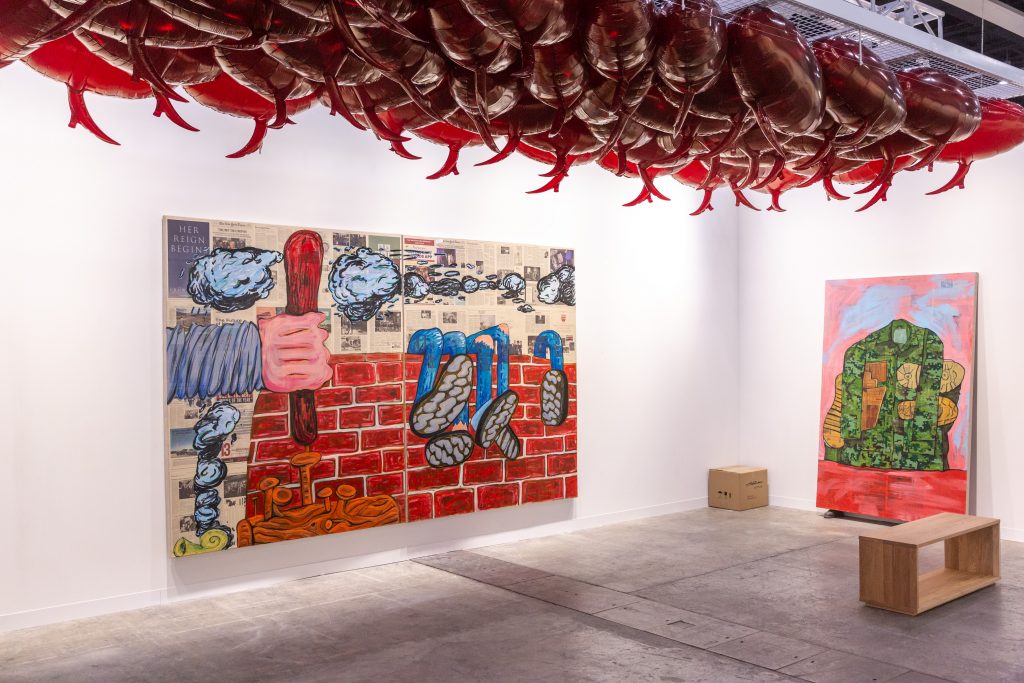 The pandemic has forced the hands of many an industry to commit to digital transformation. While digitisation has been thrown around since the millennium, the effort to treat the web as a legitimate medium was half-hearted at best in most cases and it took a worldwide lockdown to really push businesses to explore ways the digital space could serve them.
This has been particularly true for art fairs. It's been two years since members of the art world have been able to congregate through what is referred to in Hong Kong as "Art Month" and the intervening months have seen digital innovation in the art space supersede even the most earnest efforts pre-pandemic.
In March of 2020, both Art Basel and Art Central, tentpole fairs around which Art Month revolves, were cancelled as a result of the pandemic and left scrambling as to what to do. Uploading gallery works online was the most obvious solution. Art Basel developed Online Viewing Rooms, setting up what seemed to be an art-fair simulation – once viewers were granted access, they could click into the "booths" of each gallery and scroll through something akin to a slideshow of art pieces and, should any catch their fancy, transact through the site. Art Central partnered with Artsy to do much the same thing. At that point, it seemed that OVR was going to be the official replacement of the physical art fair.
But when sales are worth the sums that are traded at these fairs, an e-site takes away from much of the experience. And so Hong Kong Spotlight by Art Basel was bravely staged in late November last year as a litmus test to check whether the appetite for a physical show still existed and how one might be staged amidst Covid restrictions.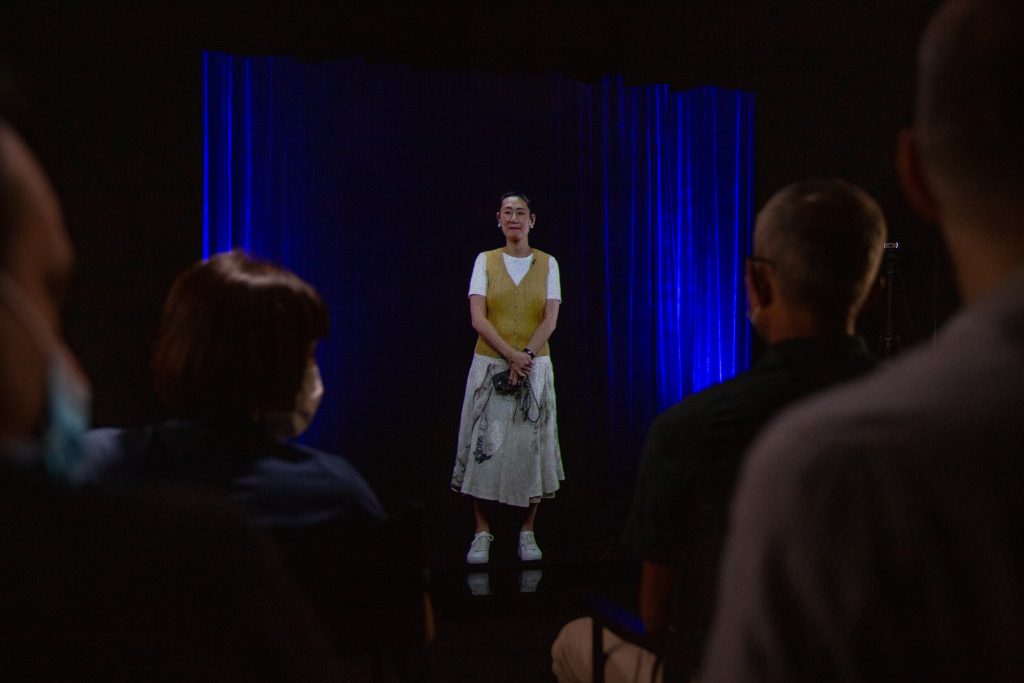 According to Adeline Ooi, Art Basel's Director Asia, "For us, come hell or high water, we really wanted to do this show because I feel like after a whole year of OVR, which is fine, that was a temporary solution," she says. "Having the opportunity to do Spotlight, that was great. We learnt so much from that – crowd control, the logistics of how to put together a show in the middle of Covid and we felt that there was serious enthusiasm on our side along with the galleries to do this. There was this sense that we should push it and that it was time to figure out how to adapt to this current condition."
Fast-forward to last month and Art Basel Hong Kong 2021, where I meet Ooi in a secluded wing a slight distance from the main show floor. Art Basel staff have taken over conference rooms in a different wing of the Hong Kong Convention & Exhibition Centre and desks have been space the mandated 1.5m apart. She's having lunch in the makeshift canteen at 2:45pm. It's the only time she's been able to catch a break since waking up at 6:45am and I see her after the interview running around with a video crew, ostensibly in the midst of creating yet more content for Art Basel Live, a content series made with the intent of bridging the gap between international buyers who weren't able to attend the fair with the goings-on of the weekend.
See also: Hong Kong Spotlight by Art Basel: The case for physical art fairs
Attendance has been strong, to the delight of Ooi and her team, who were able to secure a line-up of 104 galleries from across Hong Kong and overseas, many of which opted to participate with a satellite booth, a new concept that was introduced to support gallerists whose physical attendance in Hong Kong was not possible due to travel restrictions. It's an interesting year to walk across the show floor. Many things are different. Some things remain the same. People still enthusiastically engage with art – particularly the Kimsooja mirrors displayed at Axel Vervoordt – only they are all masked, but that's not unusual. Some gallerists are in attendance. Some are in attendance via iPads located at each booth.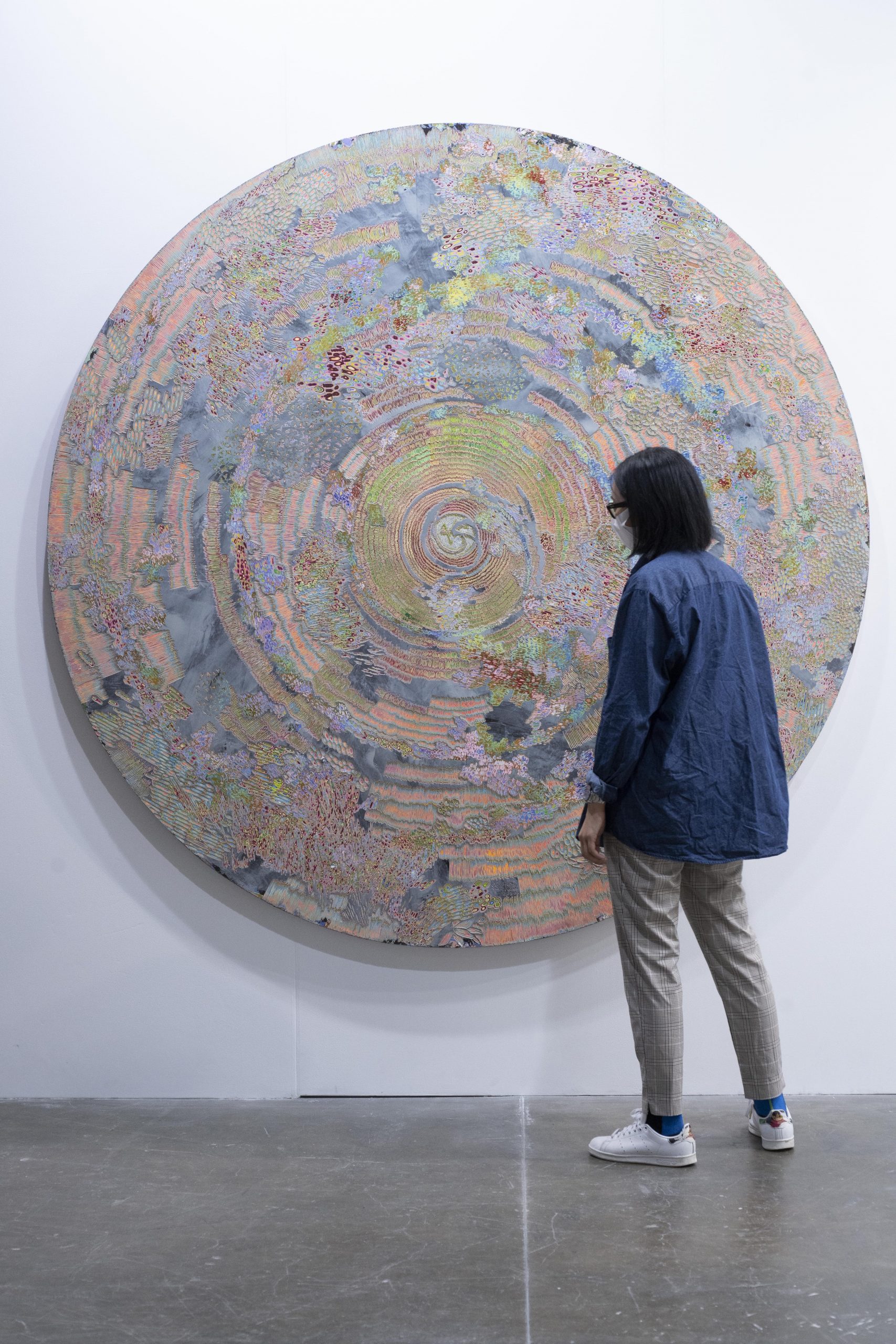 "If you think about what it means to be a VIP in real life and what it means to be a VIP online, they're two very different concepts "

Adeline Ooi
Some can be reached via WhatsApp or WeChat QR codes that are available at some booths and many smaller satellite booths (25sqm each) are manned by gallery assistants Art Basel have appointed to serve as a stand-in for gallery reps.
Everyone is holding a digital device – many are even holding gimbal sticks and actively engaging with those on the other side of the phone. Those, I'm told, are the show experience assistants. "If you think about what it means to be a VIP in real life and what it means to be a VIP online, they're two very different concepts," Ooi says. "In real life we know how it works. It's about access, it's about giving first dibs. But if you're online, what does that mean? So we thought the ultimate luxury online experience is a sort of bespoke service rather than a one-size-fits-all.
"Here we give collectors a chance to spend 45 minutes with a show experience assistant who will go wherever they're asked and stop where they're asked to stop, which brings collectors one step closer to the art instead of just the Online Viewing Room, which is a necessary platform but we all know that people are tired and there's online fatigue. OVR still needs to survive – it's still a practical solution as a sales transaction platform but this experience gives it an added dimension."
Art Central's fair director Corey Andrew Barr expresses a similar sentiment. "We certainly welcome digital innovations, which allow our galleries to reach a wider audience, however experiencing art in-person is something that would be impossible to replace," he says when asked why Art Central went ahead with a physical show. While Art Central was also smaller in size this year, relocating to a separate wing of the Hong Kong Convention & Exhibition Centre rather than building their signature event space on the Central Harbourfront, the show has also considered the synergy between physical and digital.
"We continued a digital partnership with Artsy in 2021, which has outstanding AR capability and has been a successful platform allowing galleries to access a global collectorship," Barr says. "We also introduced
a capsule collecting site this year – artcentralcapsule.com – which includes works from all exhibitors including our international galleries with works in the Here/There special exhibition."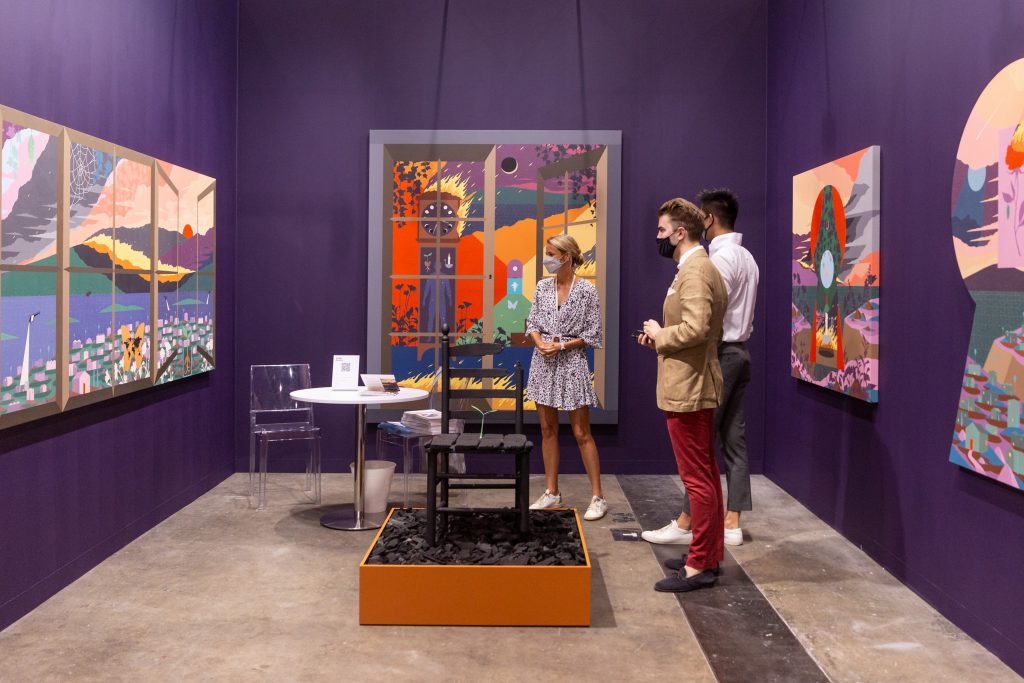 A parallel programme of daily live broadcasts, tours and interviews were held in collaboration with Asia Society, a long-standing Art Central partner. The five-day programme attracted over 25,000 visitors to Art Central alone.
Sales across both fairs have been robust. Fiona Römer, senior director at Hauser & Wirth, was optimistic. "Everyone really showed up, collectors we knew but also new collectors and new faces. It showed what a massive potential Hong Kong has as a collector base in Asia. Ninety percent of the work sold here went to major collectors in the region," she says.
"The show experience assistants were really helpful. We were able to have conversations with the collectors live as they were looking at the artwork, so it was very interactive and definitely an improvement on the Online Viewing Room where people are just scrolling up and down a site. I think people really enjoy that additional physical experience."
An additional physical experience, available to a select few, that Art Basel was able to arrange for gallerists to engage with the audience was through hologram. "It's a trial thing," says Ooi. "We couldn't offer it to all the galleries because you need the right tech and to be in the corresponding cities, which are Singapore, Hong Kong, London, New York and Geneva."
And while the hologram is probably not a clincher for sales, it's definitely a sign of changing times. "We're waiting for the show to end and we need to get some sleep first and then we'll really, really assess the successes and improvements on the initiatives that have been rolled out for this show," says Ooi. "But I think whatever learnings we have will definitely be applied to the next few shows and to the future of Art Basel. Because practically speaking, I think we're going to have to expect to live with this hybrid format for a while."