The best Christmas cakes in Hong Kong
By: Rachel Read
December 15, 2020
'Tis the season for over-indulgence – and what kind of a festive celebration would it be if there wasn't a decadent dessert to end things in style?
If you don't fancy slaving over mixing bowls and your attempts at icing look more like the Grinch than Santa, we've rounded up a few of the most fabulous Christmas cakes to order in Hong Kong, hand-crafted by some of the city's most talented pastry chefs; eating, drinking and being merry just got a whole lot easier.
White Chocolate & Berries Yule Log at Mandarin Oriental, Hong Kong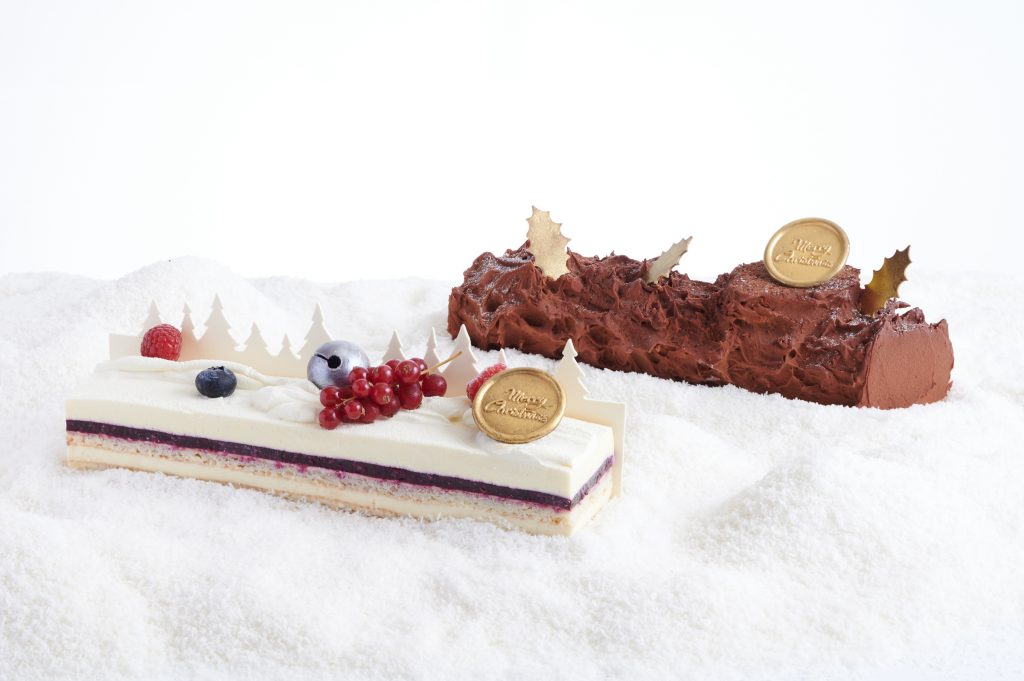 What is it? A white chocolate mousse made from single origin chocolate, layered with wild berry compote for acidity, and a roasted almond biscuit base for a subtle nutty taste.
"I've always loved the holiday season and the concept of a snow forest, so this cake is my humble representation of it," explains Mandarin Oriental Hong Kong's Executive Pastry Chef Christophe Sapy. "The most challenging part is the mousse, made using a sabayon-based technique, since it has to be precise to perfect the texture and lightness."
So why is it Christophe's favourite cake from the Mandarin's festive offerings this year? "Because it's a light, sweet perfect finish for Christmas dinner – I'd pair it with some mulled wine!"
Price: HK$468
Order at least 48 hours in advance via Mandarin Oriental Hong Kong's website
Santa Claus Coming To Your Home at Four Seasons Hotel Hong Kong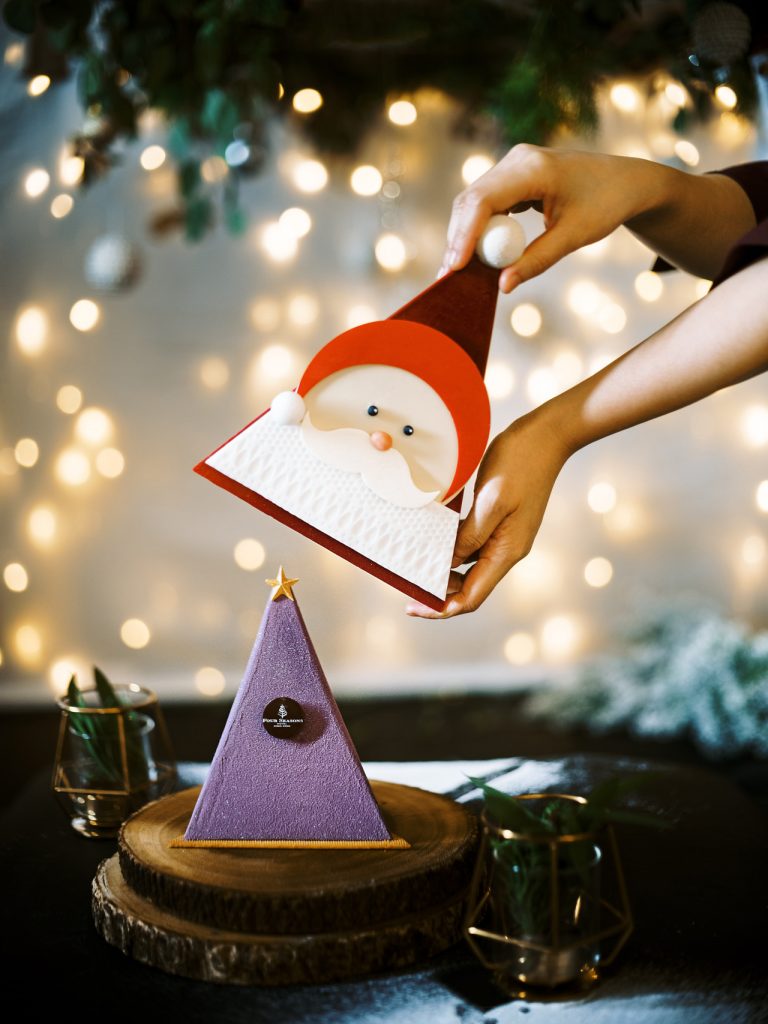 What is it? A blackcurrant sponge cake with chestnut cream and candied chestnuts, with a blackcurrant mousse and purple chocolate glazing outside – all hidden within a Valrhona chocolate Santa Claus topper.
"My inspiration for this cake came from what I think is every child's dream – hoping to see Santa Claus at home, bearing surprise gifts!" says Ringo Chan, Executive Pastry Chef at Four Seasons Hotel Hong Kong. "I hope this happy Santa cake makes people feel joyful – and that they'll be surprised opening the chocolate Santa topper to find the beautiful purple cake inside."
Each cake takes several hours to assemble, with many different stages including tempering chocolate, spraying colour onto the cake, and meticulously creating Santa's face. It takes approximately three hours to make the cake itself, plus four to five hours for the Santa Claus topper – which is completely hand-crafted from chocolate.
Price: HK$1,600
Order at least 72 hours in advance via Four Seasons Hong Kong's website
Chocolate Orange Yule Log at Rosewood Hong Kong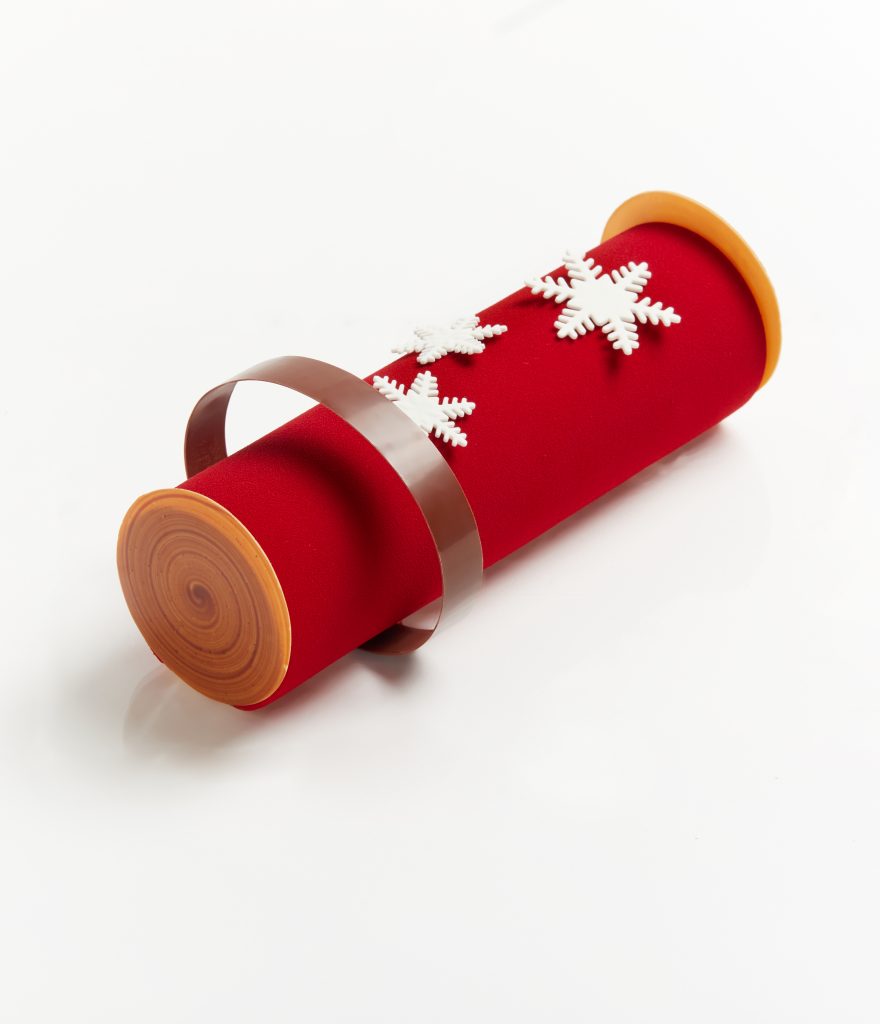 What is it? A rich dark chocolate sponge with crisp praline feuilletine, homemade orange jam and Grand Marnier orange crème brûlée – all wrapped inside a 71.5% dark chocolate cream.
"It's not Christmas without a Yule log cake, but with five different layers of well-balanced flavours, this one isn't the traditional kind," says Rosewood Hong Kong's Executive Pastry Chef Holger Deh. Each cake takes around 24 hours to make, with each of the five layers needing to be made separately.
With a festive look inspired by Santa's classic outfit, this reinvented Yule log showcases Holger's exclusive own brand of chocolate – which was specially made in partnership with renowned chocolatiers Cacao Barry at their Or Noir Lab in France.
Price: HK$680
Order at least 24 hours in advance via Rosewood Hong Kong's website
Joyeux Noel at Grand Hyatt Hong Kong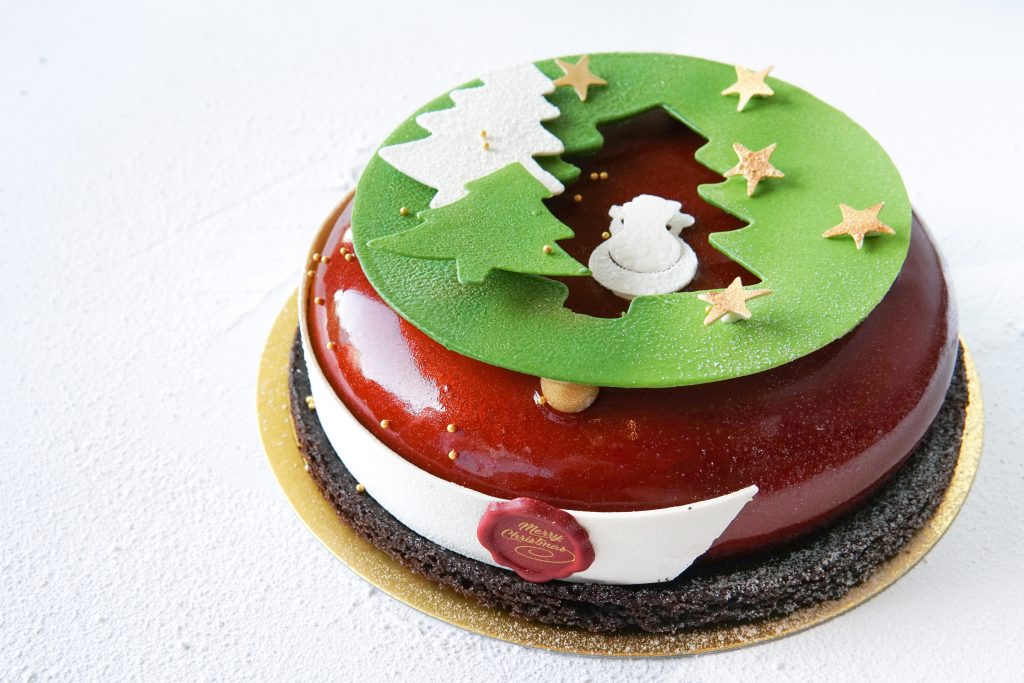 What is it? An Earl Grey tea-infused chocolate mousse, with an Earl Grey crémeux, crunchy chocolate biscuit base for texture, and raspberry confit for balance.
"This cake has a forest theme with tree decorations and a snowman, plus the colour red to symbolise happiness," says Smita Grosse, Executive Pastry Chef at Grand Hyatt Hong Kong. "I'm very attached to this flavour combination, because I used it during a competition in Dubai where I won a gold medal as a junior [pastry chef]!"
"The most challenging part to create is the elaborate chocolate decoration on top of the cake," Smita continues, "I hope it makes all our guests feel wintery and joyful."
Price: HK$428
Order at least 24 hours in advance via Grand Hyatt Hong Kong's website
Candy Cane at Dang Wen Li by Dominique Ansel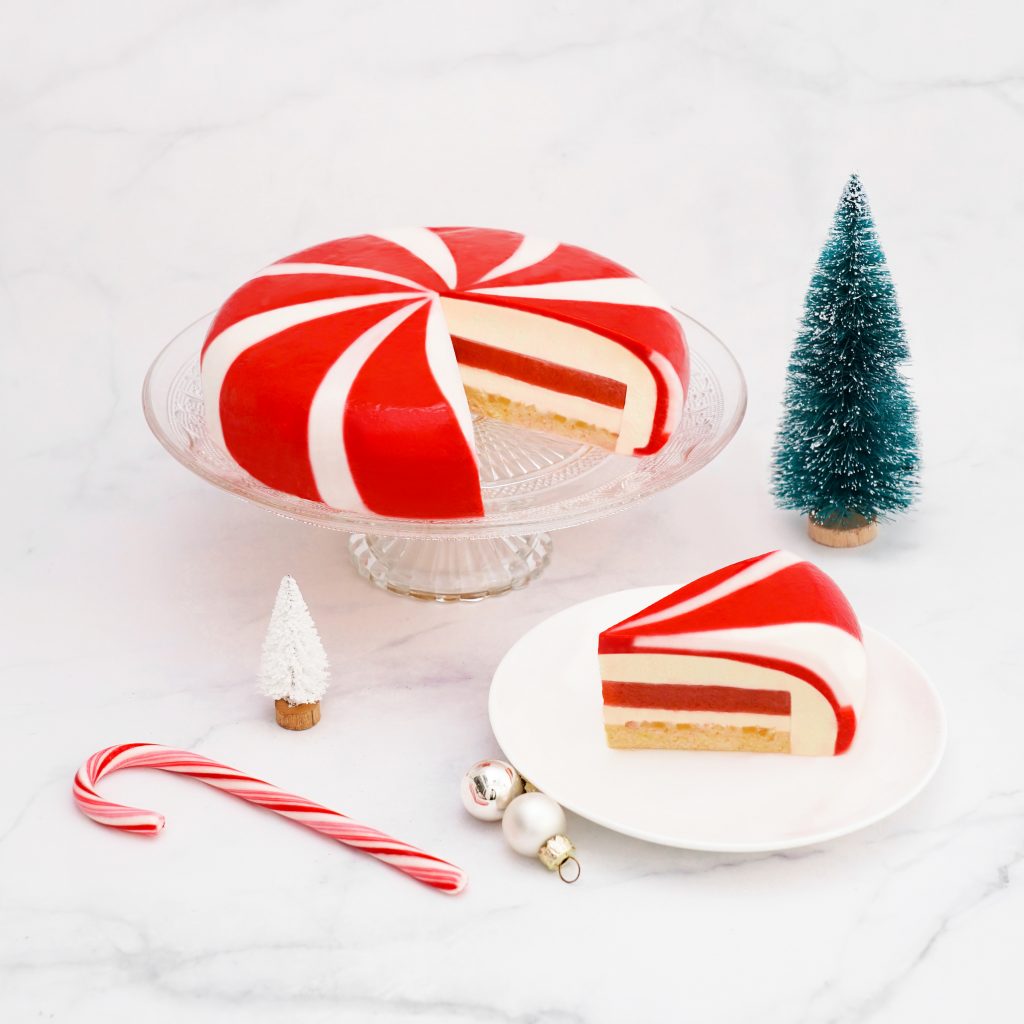 What is it? Layers of strawberry and guava jelly, strawberry crémeux, yuzu mousse and almond financier studded with roasted almonds.
"We took inspiration from festive red-and-white candy canes, reinventing them into a delicious cake that's a refreshing, delicate orchestra of flavours and textures for the holiday season," explains the pastry team at Dang Wen Li by Dominique Ansel.
Each cake takes three days to make, with the contrasting red-and-white swirl pattern proving the most difficult element. "Each strip is a different size, so first we make the white strips, then the red ones, and then put the two colours together," they explain. "To make sure the pattern fits nicely onto the cake filling, each strip is made with the utmost care and precision; sometimes we'll have to hand-trim them to ensure the pattern is nice and even, without any cracks."
Price: HK$580
Order at least 72 hours in advance via Dang Wen Li's website
Chestnut Wood at The Peninsula Hong Kong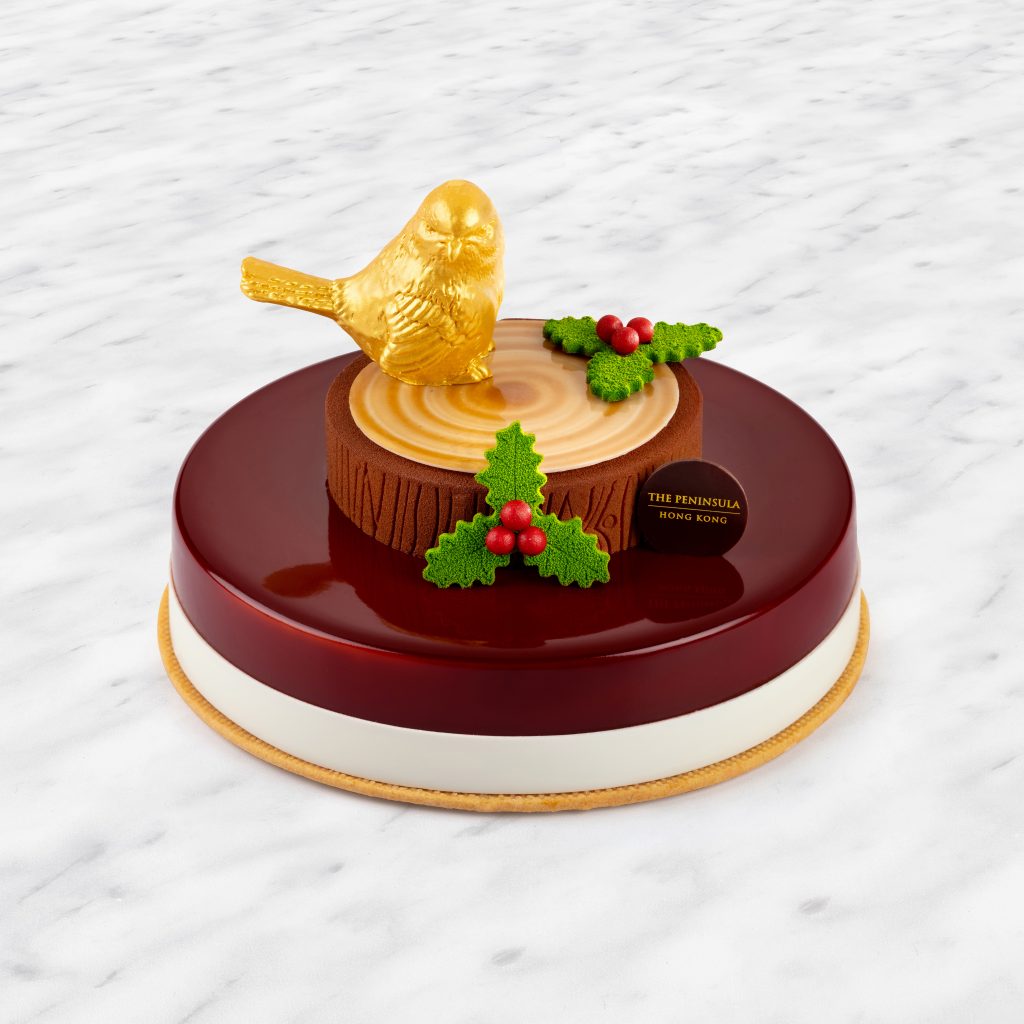 What is it? A chestnut mousse cake with vanilla sponge, rum whipped cream and cranberry compote – plus a white chocolate robin for a truly festive finishing touch.
"I wanted to bring back wonderful festive memories by making a classic Christmas cake inspired by a traditional Yule log cake – but with a twist in flavour, with the rum infusion perfectly complementing the chestnut," explains François Delaire, Executive Pastry Chef of The Peninsula Hong Kong.
Unlike most Yule logs, Chestnut Wood faces upwards rather than lengthways, meaning greater precision and accuracy was required to position the "wooden" section atop the cake's red glazed surface. The other biggest challenge? Finding a way "to stabilise the robin on the cake aesthetically" for delivery.
Price: HK$498
Order at least 72 hours in advance via The Peninsula Hong Kong's website
DIY Xmas Wreath at Bombshell, The Mira Hong Kong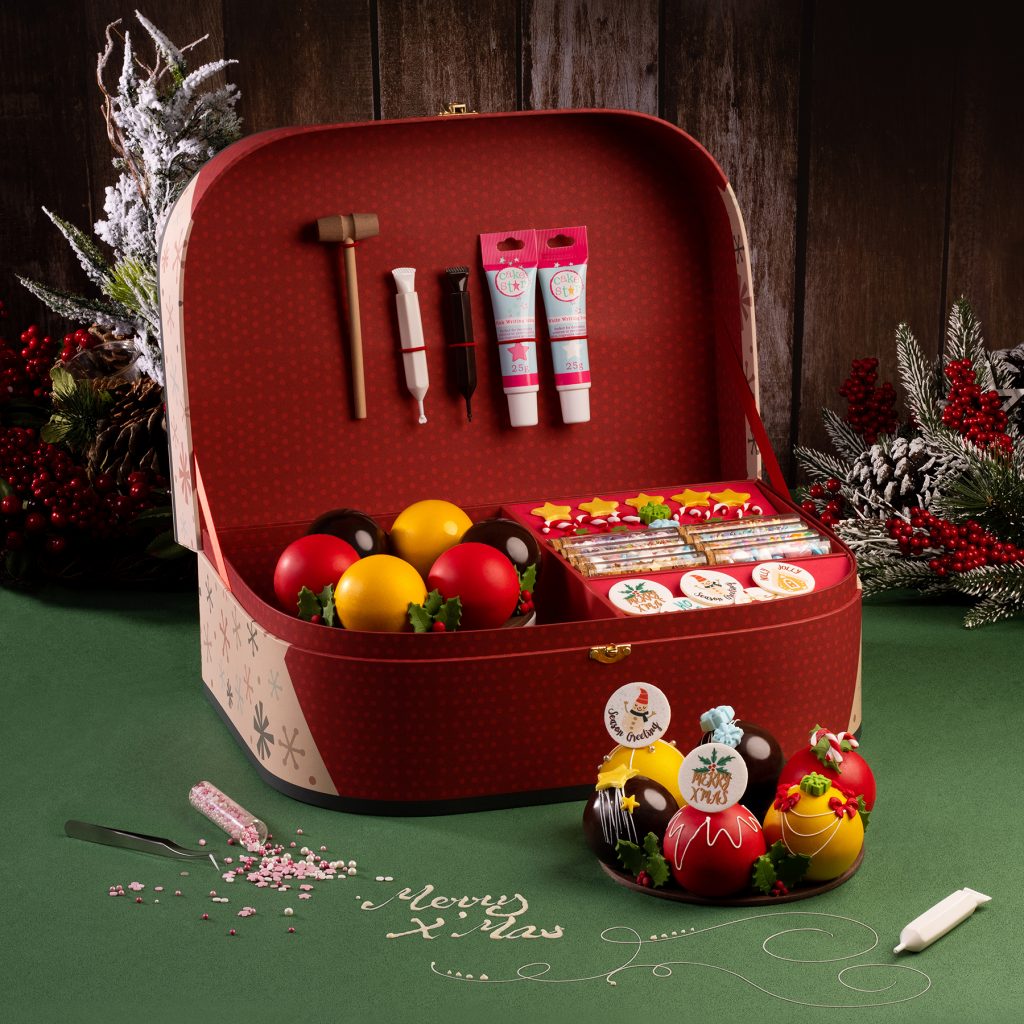 What is it? White chocolate "bombs" filled with hand-crafted coffee butter cookies, chocolate madeleines, financiers and chocolate brownies, alongside colourful confectionery such as M&Ms, Maltesers, jelly beans, and star-shaped marshmallows.
Ensure your festive celebrations go out with a bang with Bombshell's playful festive creation; simply use the wooden hammer to smash the chocolate "bombs", revealing an array of delicious sweet treats within.
"Designed for friends and family looking for creative, fun-filled activities during the festive season, our DIY Xmas Wreath is more than just a sweet surprise – it's an engaging experience perfect for sharing," explains Eva Kwan, Senior Director of Events, Conferences & Special Projects at The Mira Hong Kong. This festive kit has everything you need for smashing good time, with sugar paints, chocolate pens, fondants, sprinkles and other festive decorations provided for you to customise each bomb to your heart's content.
Price: HK$1,188
Order at least 4 working days in advance via Bombshell's website
See also: Don't sweat it: The best ugly Christmas sweaters you can get in Hong Kong