Digital cover: Somin of K-pop group Kard on what it takes to hit it big
By: #legend
March 12, 2021
It takes gumption to pursue a sound counter to the mainstream but that's exactly what Somin Jeon has done with Kard, a rare co-ed K-pop group that specialises in moombahton. Danny Kang speaks to the lead singer to find out what it takes to hit it big and why being different can be just the ticket.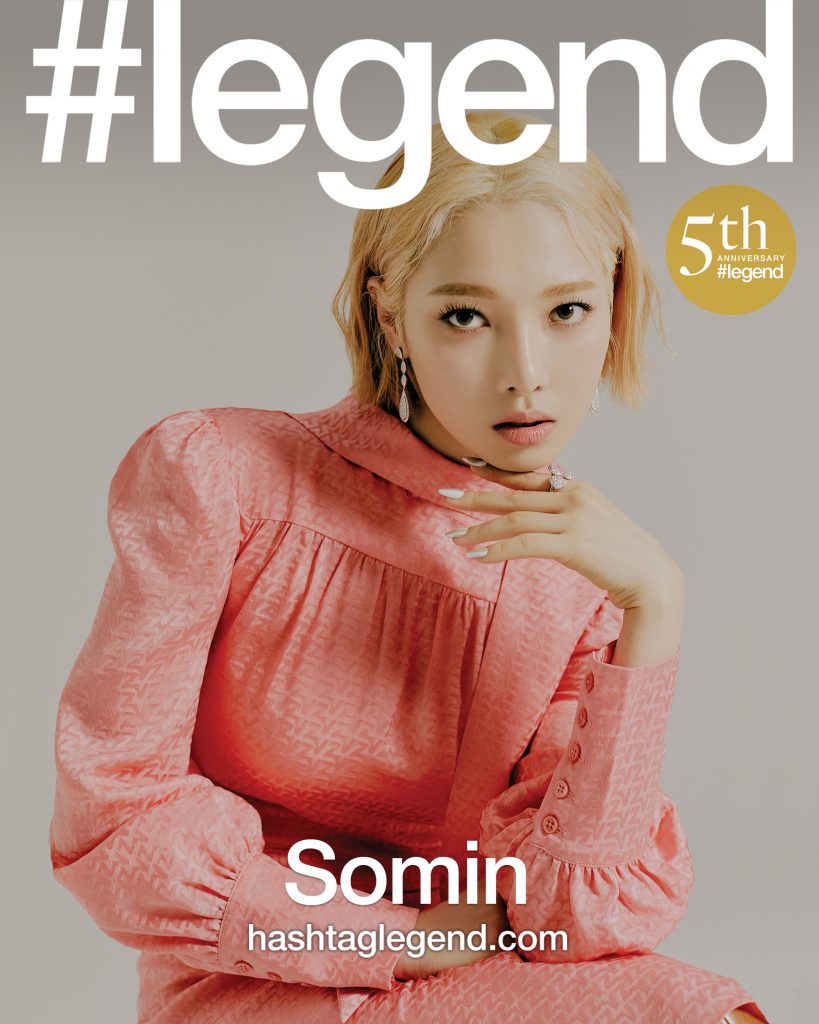 In the cutthroat world of K-pop, where new groups emerge every day and it's increasingly difficult to stand out, Somin Jeon and her group Kard have managed to carve out a unique identity and path to the top. For starters, Kard is a rare co-ed group made up of two women and two men. And unlike other K-pop groups, it specialises in moombahton – a fusion of house music and reggaeton.
Kard's unconventional charm was recognised by fans around the world even before its official debut in Korea, after the pre-debut release of Oh NaNa, Don't Recall and Rumor. And much of that success can be credited to lead vocalist Somin, who began her journey to K-pop stardom at the age of fourteen.
As Somin, now 24, tells it, music wasn't the only thing that brought Kard the fame they now enjoy. It was also Somin's gratitude for her fellow members and the confidence she found in being herself and doing things her own way. Between outfit changes and camera flashes, she talks about her music idols, discovering moombahton, making YouTube videos and her dreams for 2021.
Tell us how you got your start in K-pop.
My journey began when my mom sent me to a dance academy, saying that I should try to be more outgoing. The more I learned, the more I enjoyed it and I could see myself improving, which my teachers noticed.
Then I had an opportunity to audition for DSP Media and that was the start. After passing several auditions, I became a trainee when I was 14. I trained for five to six years and had some experience in Japan and Korea before I met the members of Kard. In a way, I was lucky enough to have the opportunity to do something I wanted to do and I'm truly grateful for it.
How does a trainee get chosen to be the main vocalist of a group? Have you always been interested in singing?
Since I started training to become a singer, I've always been eager to improve. I think the management thought highly of my efforts and decided that I should be the main vocalist. I've always been interested in singing. When I was young, I would put songs by Beyonce and Rihanna in my tiny MP3 player and listen to them before bed.
What are some of the challenges to making it big in the entertainment industry?
There are so many singers in the entertainment industry at the moment. When I was a trainee, I thought I just had to do well compared to the other trainees. But when I actually debuted, there were so many talented people and the competition was real. It really gave me a reality check.
I thought to myself, "How can I stand out amongst all these people and make it to the top?" Then I realised that I should just be myself and do things my way. I stopped caring about what others would think and focused more on what I wanted to do, and I think that's what drew people to us and what they found attractive about us. Kard being such a unique group as it is, we didn't think we needed to be competitive and should just focus on going our own way.
Before our official debut, we had three songs: Oh NaNa, Don't Recall and Rumor. At the time we didn't have many songs, but we were invited to do a tour abroad. We didn't know what to do at first, but we decided to prepare some popular songs from abroad and perform them on the tour along with our songs. Now that I think about it, it's crazy because a tour is done when we've already released a lot of songs to perform live for people. We only had three songs. It still amazes me and I'm really grateful that the fans acknowledged us and welcomed us even though we might not have been fully prepared.
How did you get the nickname Black JokeR?
People in my management thought I looked chic when I kept a straight face, so they just told me to be Black JokeR and Ji-woo [Jeon] to be Color JokeR. It was as simple as that but I don't think it represents my personality. In real life, I'm super bright and talkative, like the real Somin you see on my YouTube channel.
Kard is a rare co-ed group. What are the advantages and disadvantages?
To be honest, there aren't any disadvantages. But if I had to pick one, our pitches are so different that it's hard to fit in the middle. In a way, I think it adds to the androgynous charm of our group. The biggest advantage would be that we can create something unique and diverse with different combinations of members within our group. We can make a combination of only female members or male members or one of each.
How would you describe Kard and how did you establish your place within the group?
When I was a trainee, I was used to doing concepts that were sexy and charismatic. So it wasn't that hard to get into character as a member of Kard. However, Kard wasn't just about being sexy and charismatic. I had to think about how to stand out while also harmonising with the group. The identity we want to maintain is "trendy". Kard is a unique group itself, but we're constantly thinking about how we can follow or set trends. So our identity is unique and trendy.
"I've had so many priceless experiences because of Kard and thanks to my amazing members, I've had the chance to be called awesome. So my #legend is Kard."

Somin Jeon
Kard is known for moombahton. What do you like about this genre?
I had no idea a genre called moombahton even existed. Before Oh NaNa was released, our producer played a moombahton song and my initial thoughts were like, "What is this song, and are we supposed to sing this?" It felt a little weird and awkward at first. I wasn't sure if it would work for us, but it turned out to be amazing. That's when I started indulging in the true charm of moombahton. It's chill and exciting at the same time. There are many rhythms that get you excited even when the song is calm. It really has a magical charm about it.
You started your YouTube channel "Minny J" in 2019. What made you decide to start vlogging?
I've always been a fan of YouTube, so I watched a lot of YouTube videos. Then I had an offer from a programme called The Next Beauty Creator and it's how I started my personal YouTube channel. To be honest, aside from performing on stage, we don't have many ways to communicate with our fans. I thought it would be good to connect with them through this channel. Isn't it always good to share your favourite food or favourite everything?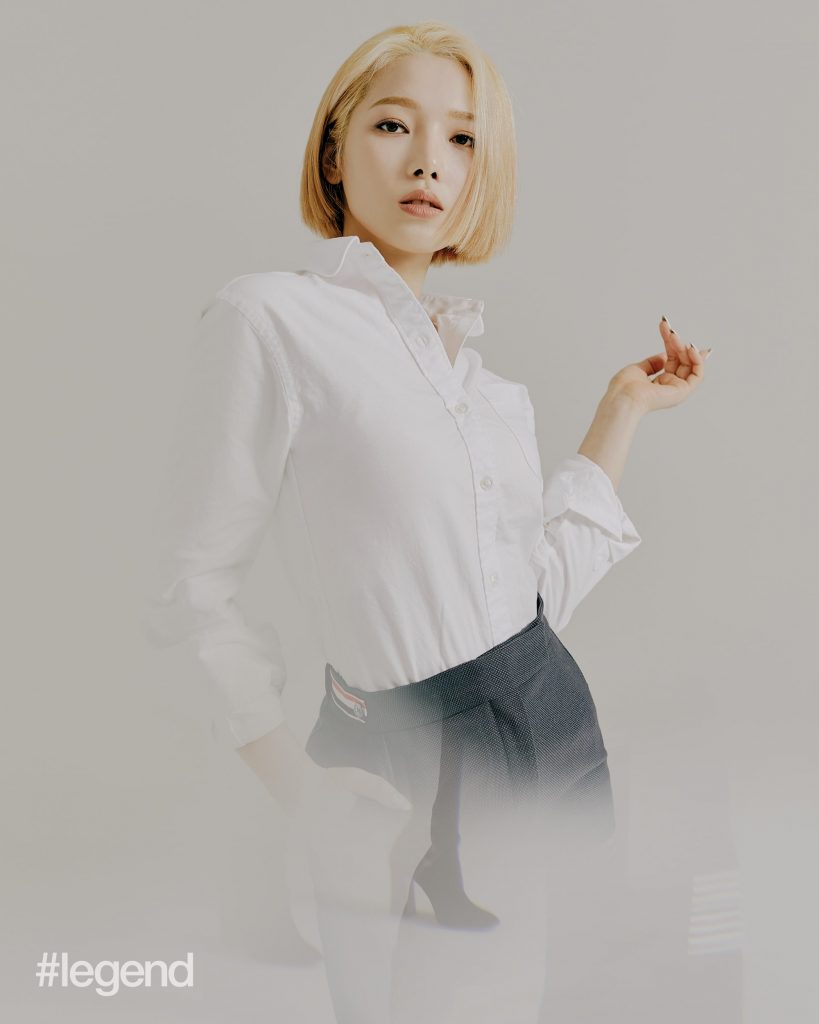 You've uploaded a lot of make-up content to your channel. What are your favourite make-up styles and what's your everyday look when you don't have to be on camera?
I actually prefer having no make-up on. Not because I'm confident about it but because it's just a hassle to take it off. When I do wear make-up, I prefer to just apply a simple but bold eyeliner to look neat. But not wearing make-up is the best!
What kind of outfit would we find you in when you're not performing?
I like to wear clothes that are comfortable. I would wear sweatsuits and nowadays it's even a trend to wear them, so I pair them with some sneakers or boots. Effortlessly cool style, so to speak.
You cut your hair short last year and you've kept it short ever since. What prompted the change?
I think it was a good decision to cut my hair. I insisted on having long hair but always wanted to try a bob. After [the release of our single] Gunshot, my hair was so damaged and I thought it was now or never. I just went for it and people really liked it, so I've kept it until now. There's a good thing called extensions if I ever want to have long hair again, so I'm sticking with a bob for now.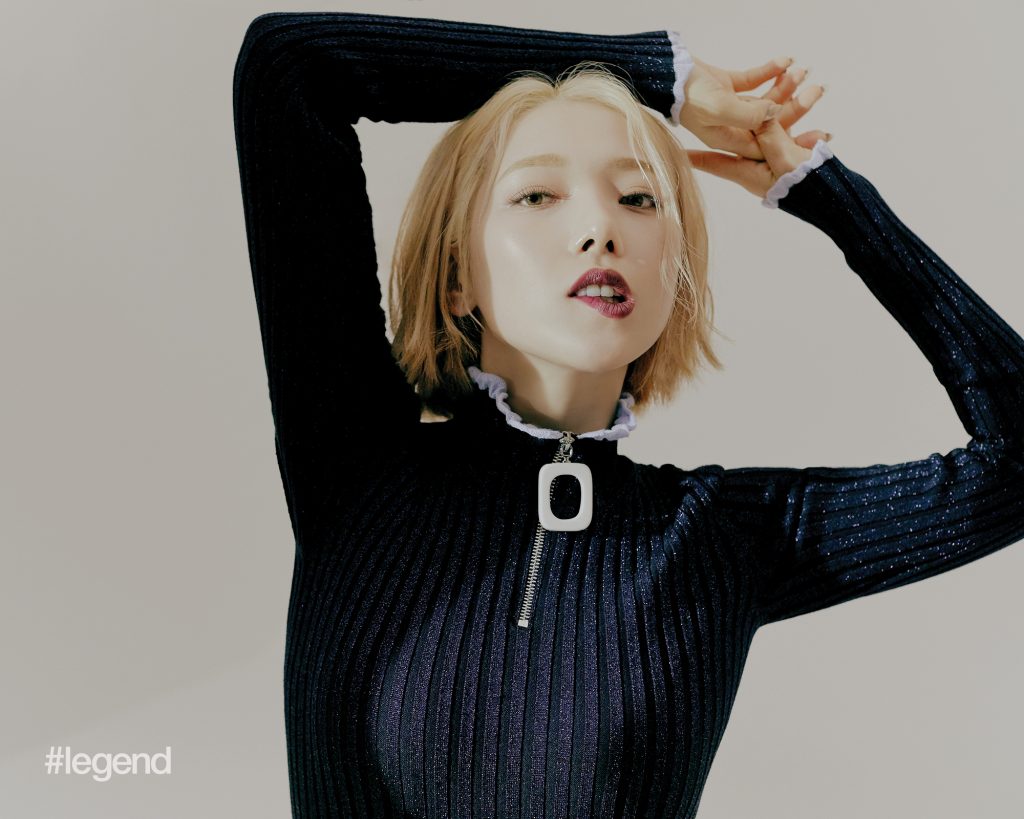 You've done some beautiful song covers on your YouTube channel and many comments praise you for your voice and talents. Other than your work with the group, what are your plans for solo music, if any, in 2021?
At the moment I don't have any plans for a solo album, but I'd like to do it one day if I get the chance. Right now, I'm preparing a duet album with Ji-woo. It's still in the planning stages, but I suppose this year I will be able to present a song with Ji-woo first.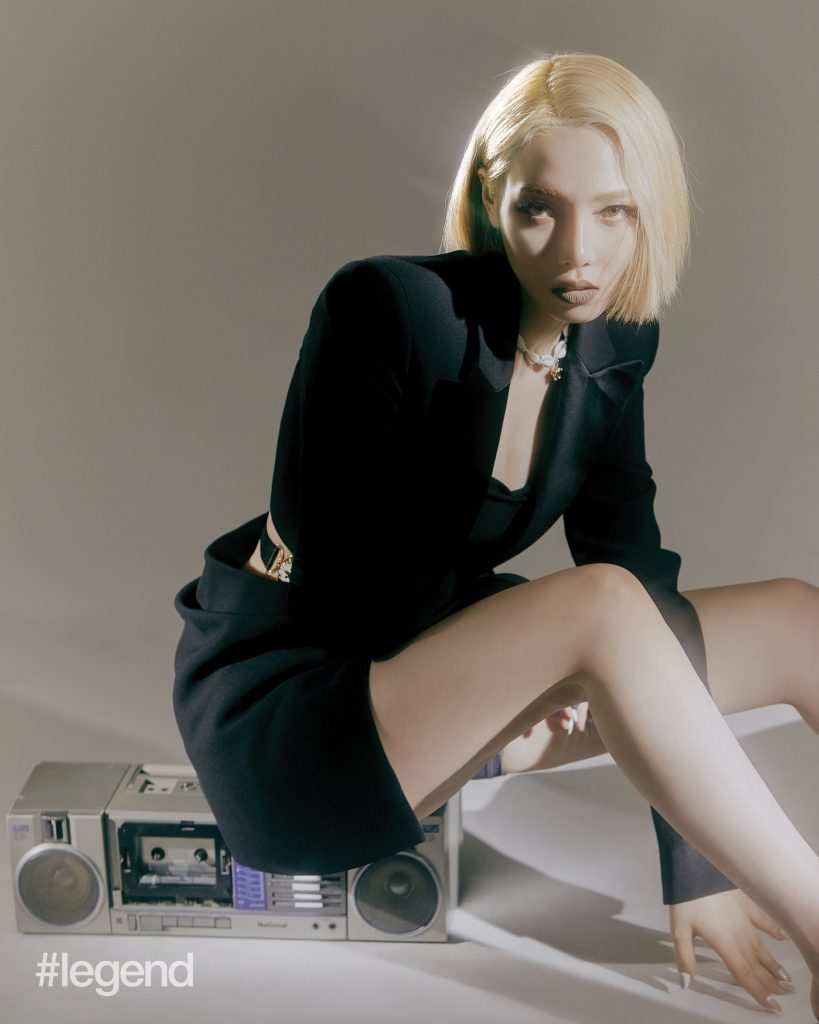 Aside from singing, you also play instruments like the piano and violin. Are there things you enjoy doing outside of music and performing?

Music takes up half of my life because without music I wouldn't have been able to meet my fans and Kard. I actually wanted to start a new hobby, so I ordered a gem painting kit with my friend. But when I opened the box, I was immediately stressed! It just seemed so difficult and complicated, so I'm taking things slow.

What are your goals for 2021?
I really want to see my fans. I haven't seen them in over a year and a half. I hope I can have a concert or performance to meet them soon.

Who is your #legend?
I've had so many priceless experiences because of Kard and thanks to my amazing members, I've had the chance to be called awesome. So my #legend is Kard.
CREDITS
Photographer / Lee Eun Bok
Videographer / Augustglyph – Seong Kim
Production / Danny Kang
Styling / Yoo Jeong Eun
Hair / Song Sang Ah
Make-Up / Ko yeon Jung
Coordination / Legend Entertainment Group
See also: Cover story: Nana Ou-Yang on performing, perseverance and pop music